Dallas NBC changes up morning background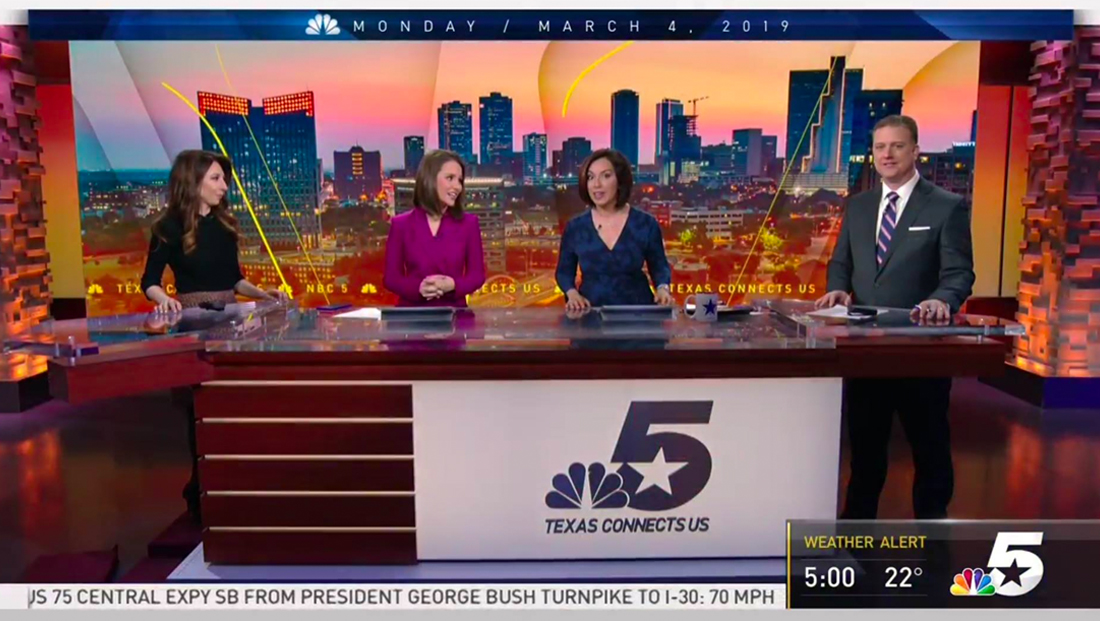 KXAS, the Dallas–Ft. Worth NBC O&O has changed out the backgrounds for its morning newscasts with a stylized cityscape in favor of its normal practice of feeding live views from the region to it.
The new look features a photograph of the city that has been colorized with blues, pinks and golds along with shadows and lines overlays drawn from the shapes in the NBC peacock.
The yellow lines in the background are animated.
Along the lower part of the graphic is a row of text that repeats "NBC 5" and the station's slogan "Texas Connects Us" separated by small NBC peacocks.
Coordinating with this look are gold uplights and pink downlighting on the faux stacked stone columns on either side of the anchor desk, as well as similar backlit gradients in the set's color changing wall panels. These effects were in place before the station started using the graphic.
As of Monday, March 4, 2019, however, KXAS has not switched to this type of background for its other newscasts.
That station, which moved to a new facility in 2013 and introduced its current set at that time, updated the video wall behind the anchor desk to a seamless model in May 2018 along with other tweaks to the set.
Dallas' NBC 5's sister station WMAQ in Chicago experimented with still, stylized cityscapes on its video array last summer — before reverting back to using video feeds. The station updated its set to seamless video walls over several months stretching from 2018 to 2019.