'First Responders Live' blends augmented reality with texture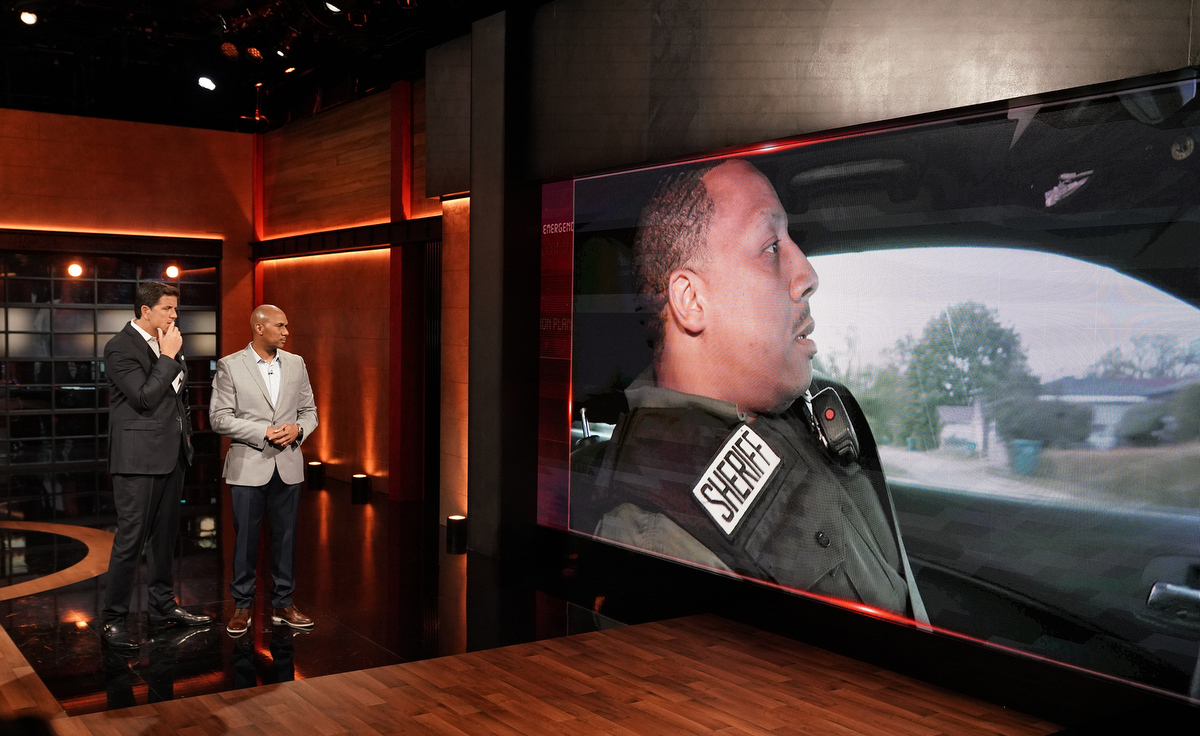 Subscribe to NewscastStudio's newsletter for the latest in broadcast design, technology and engineering delivered to your inbox.
Billed as the real-life version of popular Dick Wolf dramas "Chicago Fire," "Chicago PD" and "Chicago Med," Fox's "First Responders Live" takes viewers on a journey each week as events unfold – kind of.
Similar to AE's popular "Live PD" program, Fox's version follows fire, police and paramedics in the field; however, the show may not actually be "live." For one, the show airs live only on the East Coast for one hour a week. That's a pretty small window for "disaster to strike." Secondly, it's noted at the beginning of each airing that "some segments were previously recorded."
What the show lacks in time, it makes up for in storytelling, packing the latest in augmented reality technology into its Los Angeles studio to help toss viewers into each situation.
The overall studio space was designed by JP Connelly, creating a modern control center for host Josh Elliott — formerly of "Good Morning America" and CBSN — and his accompanying experts.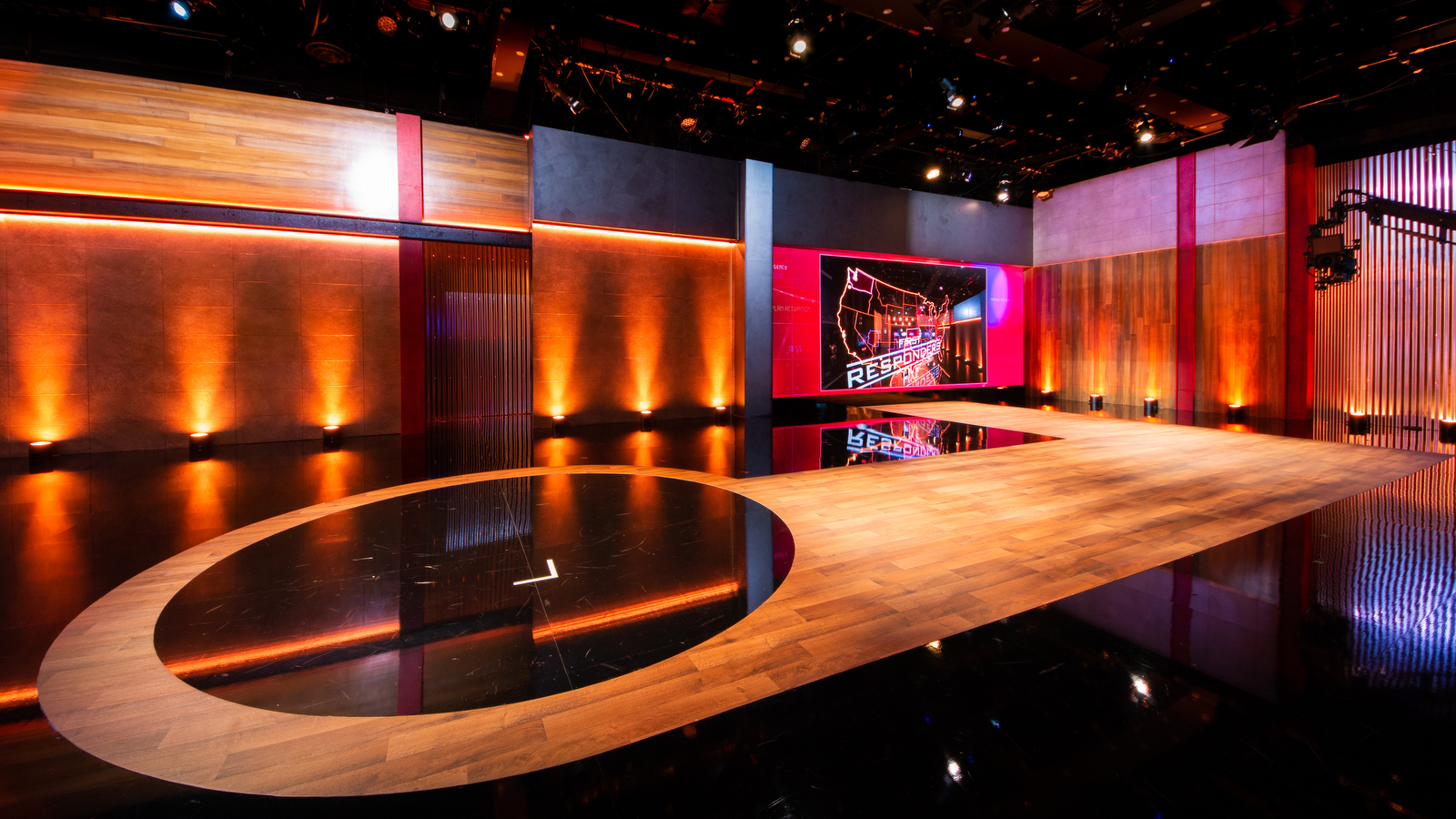 Mirroring the rough materiality of many modern firehouses and police stations including the show's counterparts in the "One Chicago" universe, the set includes a small table for the experts and is staged to allow for a variety of jib and Steadicam shots.
Producers monitoring feeds are separated from the rest of the studio by glass partitions and an interpretation of a garage door.
Meanwhile, strategically placed lights allow the set to quickly change into dramatic red and blue hues as events unfold.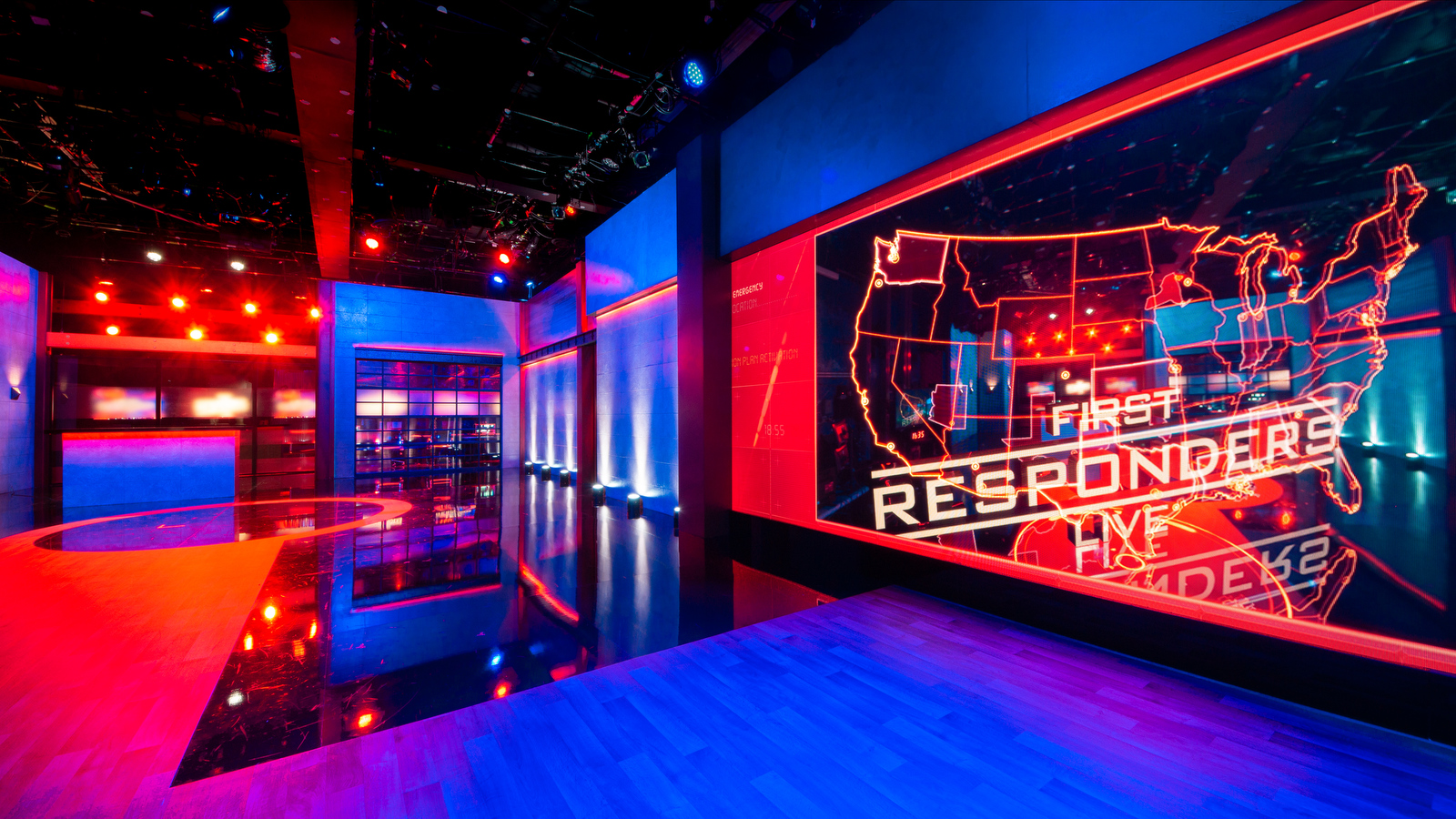 Along with an LED wall for analysis and live check-ins, the set also has an established augmented reality area thanks to a simple circle cutout in the set's wood flooring.
In this area, augmented maps, logos, badges, infoboxes and live video feeds appear as Elliott interacts with the elements.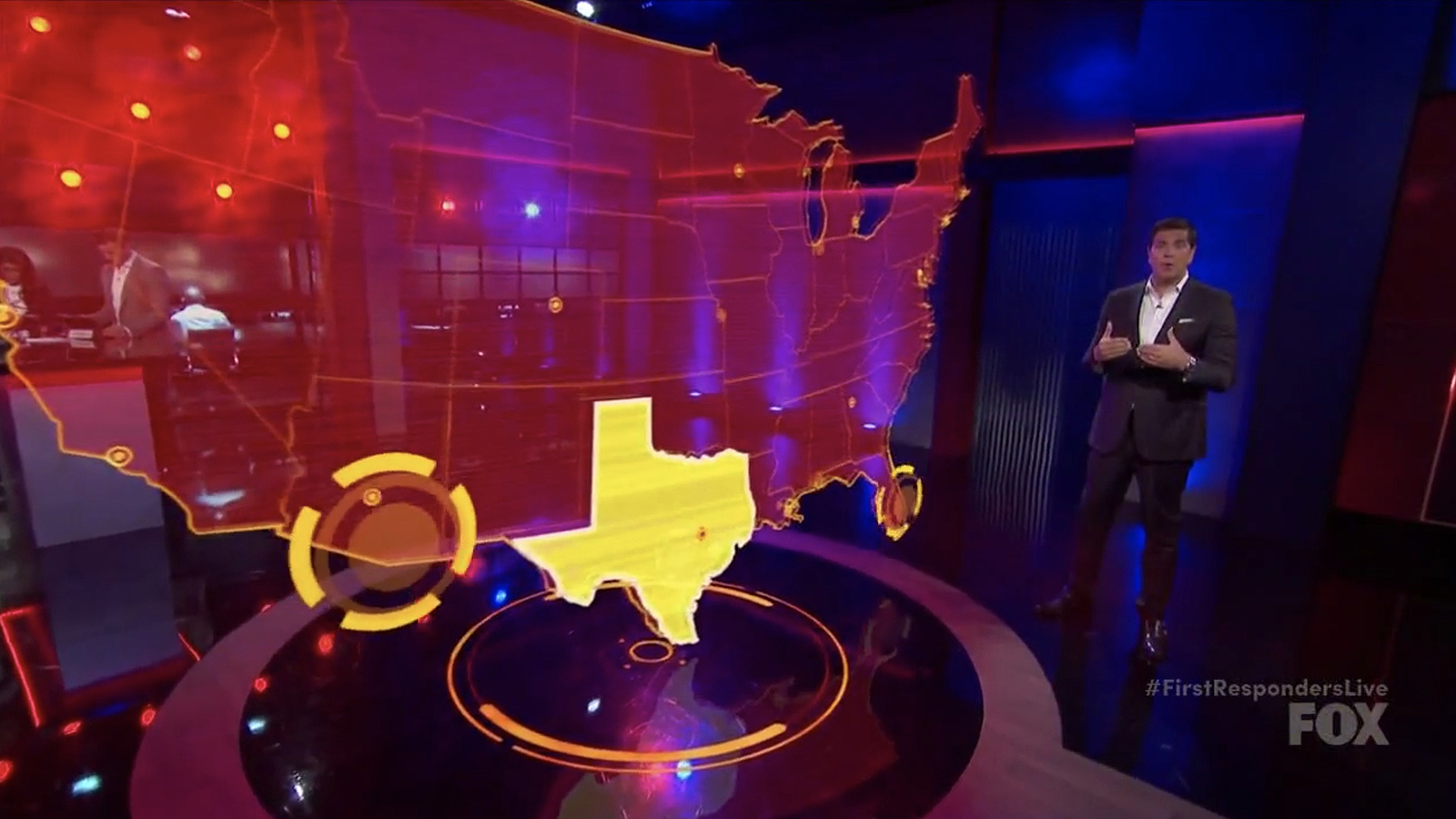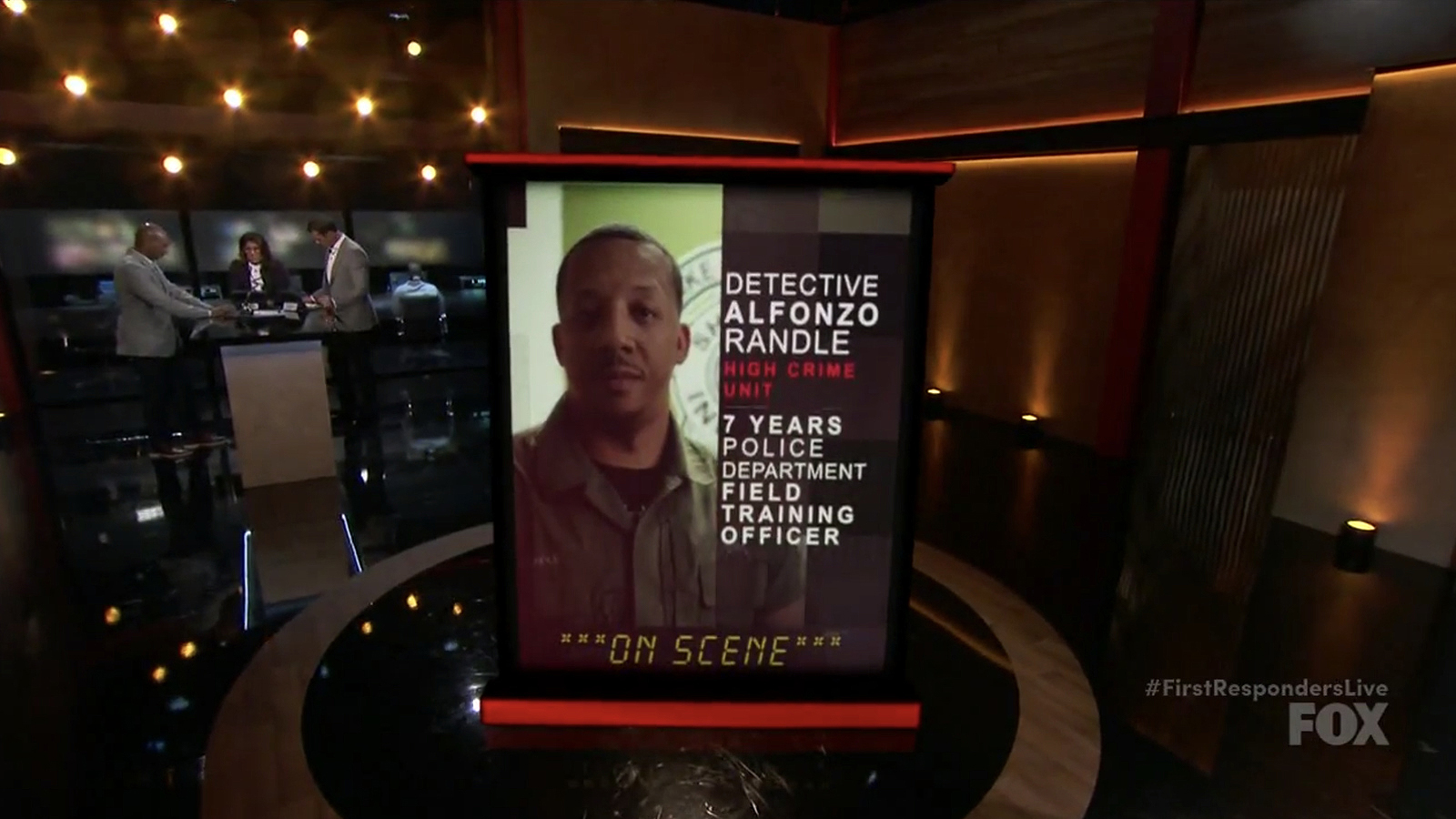 Full Mental Jacket designed the various augmented reality elements with CGLA Studios providing integration and support during show tapings. The designs are powered by Zero Density's Reality platform with rendering from the Unreal Engine and jib camera tracking from Mo-Sys.
Through the use of augmented reality, the show is able to quickly add context about an officer or a location while keeping up with the pace of live events.
"First Responders Live" is produced by Wolf Entertainment and 44 Blue Productions, with Wolf, Rasha Drachkovitch and Tom Thayer as executive producers.
Project Credits
– Set design by JP Connelly
– Lighting design by Dan Reed
– LED rental from Sweetwater
– Set fabrication by Centerline Scenery
– Augmented reality design by Full Mental Jacket
– Augmented reality integration by CGLA Studios
– Graphics powered by Zero Density's Reality
– Camera tracking by Mo-Sys StarTracker
Photos courtesy of Fox, Dylan Robin / JP Connelly and CGLA Studios
The latest in design, production and engineering
Subscribe to NewscastStudio for the latest delivered straight to your inbox.