FOX News Election Center
FOX News is taking the wraps of its brand new, massive, imersive, election center.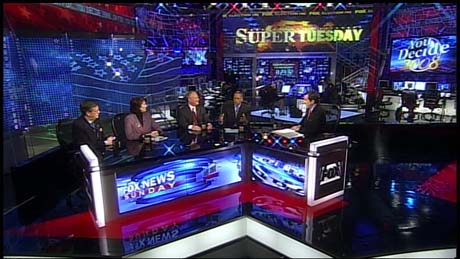 Picture courtesy of Inside Cable News.
The new set features a massive rear projection screen on an upper level, many glass panels, a United States map for drawing on, modern led desk, many plasmas, and a lot of surprises.
The new set looks like it was made by PDG, now a Jack Morton company. PDG recently completed FOX News's Studio E and the new FOX Report set.
The set is a step in the right direction for FOX, who's sets seem to still be lacking compared to CNN and MSNBC. The new FOX News Election Center looks built to last, and will probably be used for other FOX News programs.
The set is not a cheap temporary set, or another set repainted.
Watch for the set to debut on Super Tuesday, and for a sneak peak, watch this video Johnny Dollar posted on YouTube.
http://www.youtube.com/watch?v=9Ww7HTjNb_g
UPDATE – The studio is a temporary studio, and is located at Unitel Studios in New York. This is an interesting move for FOX News, leaving behind the normal studio and getting a hugh temporary one.
It will be intersting to see how long it lasts, through November?