WESH-TV graphics posted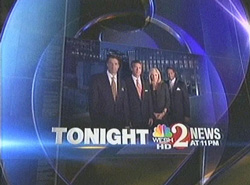 Screen grabs from the HD graphics package at WESH-TV, the Hearst-Argyle NBC affiliate in Orlando, Fla. have been posted. This is the third graphics package the station has had in the past two years or so.
The first one used rich purples, oranges and reds mixed with Hothaus Creative footage of talent at work. It was a unique package that really stood out in the market. Then, about a year ago, the station introduced a hybrid graphics package that used some existing elements in smaller areas but switched the main color scheme to H-A's familiar blue, white, gold and red look. The package still had some unique elements and worked well.
Then, with the station's rollout to HD last November, the current graphics were introduced. These graphics use blue as the dominate color, accented by the whites, golds and reds. All of that is combined with shiny 3D background elements.
It's a nice package, but blue is the dominate color is the other Orlando station graphics, including longtime market leader WFTV-TV. Plus, the WESH-TV set now seems oddly colorful since its printed graphics and RP animation loops take many cues from the original graphics.
That said, WESH-TV's graphics do have more depth and 3D elements than other Orlando stations, which creates a standout look.