First reactions to Maddow production values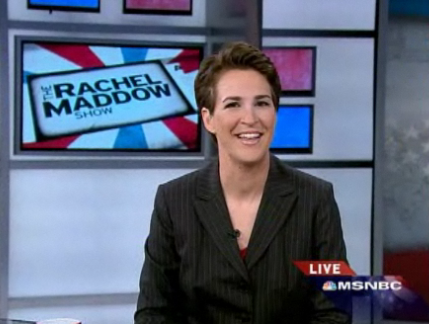 Rachel Maddow's new show debuted this evening using the main MSNBC newsroom set, though the producers seem to have elected to keep the show confined to the non-newsroom side of the studio.
The show's graphics are a combination of bold red, white and blue tones with a bit of a grunge-like texture added. The large plasma array that normally displays a live feed from Rockefeller Plaza projects a sketch-style version of a cityscape during Maddow's time.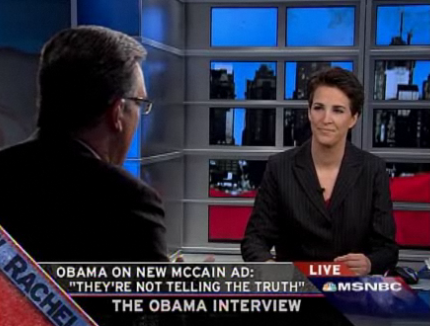 The graphics package also features a "folding paper" transition that ties in well with the rest of the look.
In addition, a prominent graphic used on set features a slowly rotating red, white and blue pinwheel behind a "sheet of paper" with the show name on it. Keith Olbermann, appearing on Maddow's show, commented that the graphic is hypnotizing and reminds him of the British flag.
It's also interesting to note that Maddow's show has made some use of some of fancy camera moves once used on Olbermann's "Countdown." Such moves were seen in the opening block and during the "Talk Me Down" interview segment, where a jib was used to boom up from one side of Maddow's anchor desk to reveal a plasma screen on which her guest was displayed.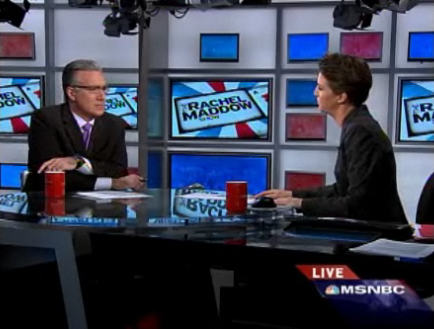 It's nice to see MSNBC getting back to some of these more creative moves and it will be interesting to see if they continue to use these techniques.
Producers have also found some new uses for the set's standard elements.
First, the backlit walls take on a white tone, a color that I don't believe has been used before. The floating rear projection screen tucked in a corner is used as an OTS element, but is framed more tightly, making the screen appear more square-shaped. Most of the numerous LCD screens mounted around the newsroom are also used to project textured colors blocked of color, an interesting alternative to the video feeds normally seen in them.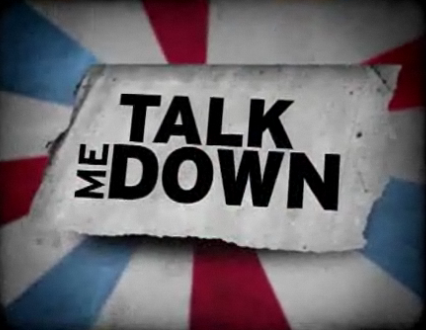 The show retains MSNBC's standard angled graphics, including the animated "Place for Politics" bug, though the colors and textures found in the graphics match those found elsewhere. A repeating graphical element is, appropriately, the text "RACHEL MADDOW" in a modern block typeface. This is most noticeable in the lower-left hand triangle segment that normally holds the NBC peacock.
The show's intro animation, though only seen at the opening of the second half hour of Monday's show, features block-style illustrations of the topics Maddow covers and ends up with a stop-action animation of Maddow standing next to the show logo.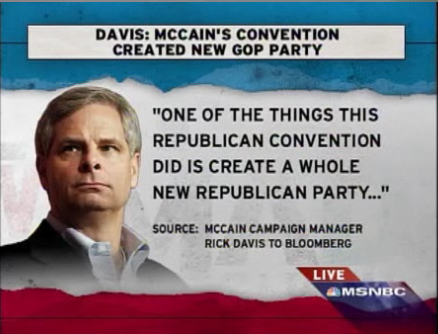 One downside of the show's production values is the rather garish background of ribbons and stars appears to one side behind what appears to the be the seat for in-studio guests.
The latest in design, production and engineering
Subscribe to NewscastStudio for the latest delivered straight to your inbox.