NBC News debuts spiffy alternative to whiteboard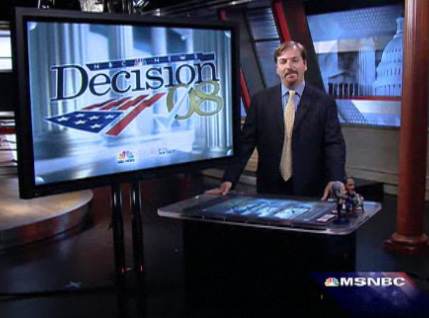 It looks like NBC has retired Tim Russert's famous whiteboard and has a new way to demonstrate electoral vote scenarios.
NBC's Chuck Todd was showing off his network's new electoral map device on "Hardball" tonight.
The new setup includes a ceiling-mounted camera that looks down onto a touchscreen tabletop that allows electoral votes to be tossed between candidates with totals updating in real-time. The results can also be displayed full-screen and on the plasma monitor behind Todd and the device also doubles as a telestrator.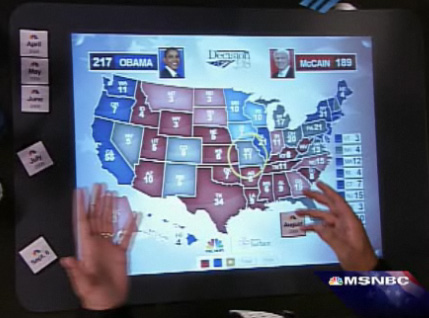 The setup, which is installed in the same studio used for "Race for the White House" and the Andrea Mitchell-anchored hour on MSNBC, is powered by Microsoft's new Surface technology, an interactive, touch-screen tabletop initially designed for use in bars and nightclubs. Two bobble-heads perch on the corner of the desk as well.
Overall, the new setup (which doesn't seem to have a catchy brand name yet), is moderately effective, but lacks some of the bells and whistles of John King's now famous touch-screen over at CNN. The overhead camera shot is a bit washed out and is also somewhat reminiscent of a similar configuration Dan Rather used in the 2000 election at CBS.
By the way, during the time it was used on Hardball, Todd seemed to keep looking off-camera to Matthews, though it wasn't clear if he was looking over to Matthews' set or at a monitor. However, it was a bit distracting and, if the two are in the same studio, could have been made much more interesting with some real interaction shots.
The latest in design, production and engineering
Subscribe to NewscastStudio for the latest delivered straight to your inbox.