MSNBC embeds video on home page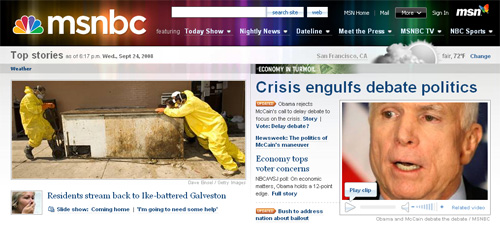 We're not sure if this is the first time MSNBC has done this, but it's the first we've seen of it.
Last night MSNBC embeded a video player on the hemepage along with its lead story on the financial crisis and its affects on politics.
It's an interesting approach to increasing visitor awareness of your site's video offerings and MSNBC was smart to put the small "Play clip" bubble on the player since it looks so much like a photograph.
That said, does anyone else hate it when you're at the library or somewhere you can't listen to video and there's a great news headline on CNN or MSNBC that's only available in video format?