WPXI.com drops old IBS look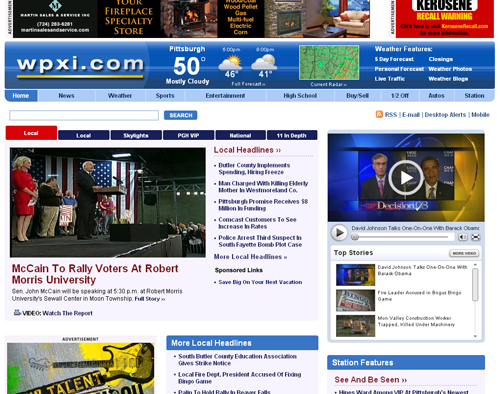 WPXI.com, the Web site of Pittsburgh's Cox NBC affiliate, has launched a new look.
This is a welcome change from the old-style Internet Broadcasting look the site used to sport (for an example, see sister station site WFTV.com).
The old look was very cluttered and used many outdated design techniques. In addition, its expandable page width made it difficult to read content in wide screens.
The new design is a big departure from previous Internet Broadcasting looks (for an example of the other designs, see WESH.com and Local6.com) and also manages to clean things up quite a bit.
This new look includes much better use of white space, simple and effective blue header bars and a nicely-designed video player.
It will be interesting to see if this new deisgn is exclusive to Cox-owned stations or begin to appear across the Internet Broadcasting network.