Rachel Maddow starts standing up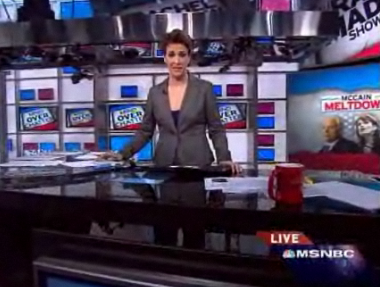 On Monday night's edition of "The Rachel Maddow Show" we noticed that Rachel seemed to be standing up to anchor the show.
Maddow has always been a very animated speaker, so we're guessing standing makes her feel more comfortable and able to speak more effectively.
It's interesting to note that Maddow is standing at a desk that's really designed for seated presentation (it's the same desk used for "Morning Joe"). Therefore, the height isn't optimal for using the surface for scripts or the in-desk computer.
We also noticed, however, that the camera operators seemed to be having some trouble adjusting to Maddow's new position (MSNBC uses completely robotic cameras and the wide, sweeping shots used during Maddow's show are almost certainly done using the robotics). In the show's opening shot, the camera almost seemed to be using a shot that was programmed for the seated position; there were several awkward adjustments and the shot never quite looked right.
For an additional piece of Maddow news, see the jump.
The Rachel Maddow show also recently received its own branded video page.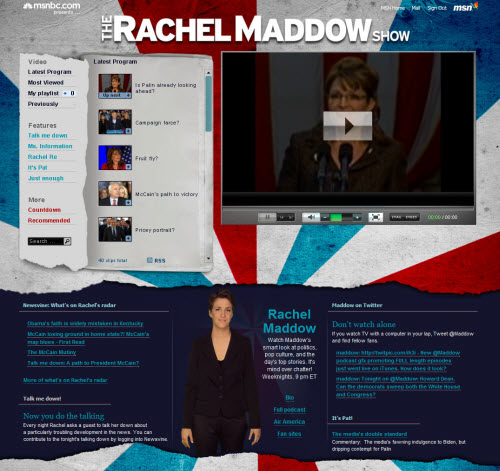 This is perhaps the best example of MSNBC's branded video players. It integrates the show's graphics package that includes detailed textures in the background and "tears." We also love how the playlist has been designed to look like torn sheets of paper.
We only have one little complaint: that photo of Maddow in the lower section isn't the most flattering pose.
The latest in design, production and engineering
Subscribe to NewscastStudio for the latest delivered straight to your inbox.