NBC to use HD wings for additional election data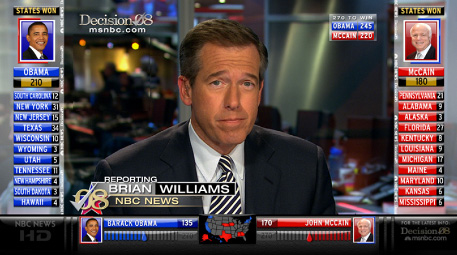 TVNewser has obtained screen grabs of the graphics NBC will be using on election night. The look will include additional data, rotating among the various race. These graphics will supplement a lower third that will be visible to all viewers and include rotating information too.
Click here to see more shots from TVNewser.
This is a good example of using HD wings in a good way — to give viewers more data. While the 16:9 aspect ratio may be great for sports viewing, movies and other types of programming, news shows can greatly benefit by adding additional information rather than just making the picture wider, which doesn't really add that much to the story. This way, HD viewers feel like they're getting more information rather than just more picture.