WNBC adds divider to set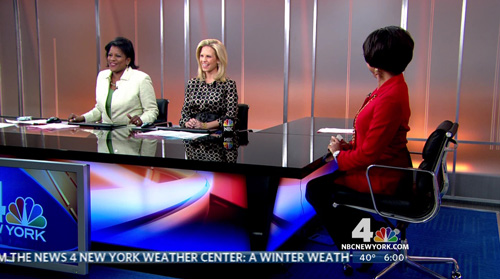 Courtesy of TVNewsTalk.net: WNBC-TV in New York has gotten an addition to its newly-inaugurated set. On this morning's news, viewers could see new metal and frosted divider panels.
It appears WNBC-TV is using the set's main anchor desk in the same position since you can faintly see the newsroom's low divider wall and slanted support bars through the divider.
This is an interesting addition to the set that's most likely meant to "hide" what's likely a near-empty newsroom. This is a common problem with newsroom sets during mornings and weekends since these times of days tend to be running on bare-bones staff.
That said, it's a bit bland and washed out compared to the colorfulness of the rest of the set and graphics, though this may be the intended effect since a newsroom set isn't always desirable for morning news.
WNBC could spice up the look by adding some frosted graphics or lettering to the panel or use something that's a bit more transclucent or with some printed graphics, such as the backdrop CNBC used on election night.