ESPN debuts new Web site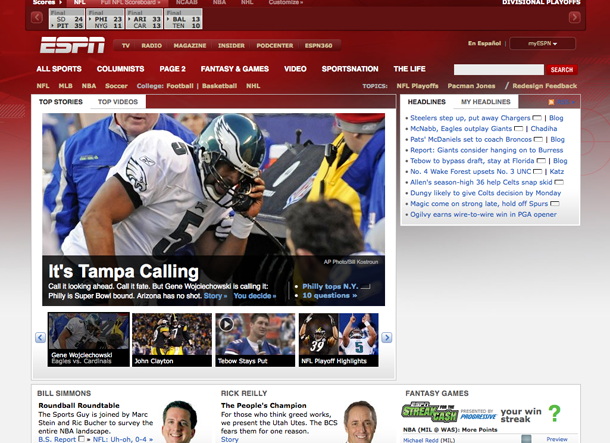 At NewscastStudio we like to also cover the sports media, and today major sports news was made. ESPN finally updated its online look with a much more decluttered and modern wWeb interface at ESPN.com. As reported on NewscastStudio in early December, ESPN wanted to "bolster ease-of-use and advertising opportunities" on it's new website.
"Instead of inundating visitors with its intense coverage of every major sport from the get-go — something that the company now believes can drive away certain fans — ESPN.com is moving in a less-is-more direction, at least on the home page."
The new ESPN.com allows for greater advertising opportunities and better user customization, so fans get the content they want. Hopefully in the new year, as ad spending shifts around, news stations sites will take notice of the move by ESPN.com and move to a less cluttered website format. Nothing is more distracting on a news website than a content overload.
NBC has tried to combat this with its new O&O sites, which take a much more streamlined approach, but they in comparison are still cluttered with maps and news all over the page and a clunky story rotator. The new ESPN.com in comparison makes it easy to find the sports news you need and creates a big story that you can rotate through easily.