Kentucky station crams three tickers onto one screen
ABC affiliate WBKO-TV in Bowling Green, Ken. ran three separate crawls over the weekend to keep viewers informed of two major news stories and the DTV transition: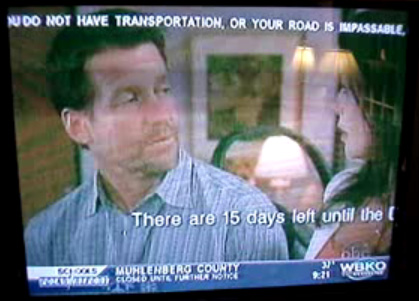 During ABC's "Desperate Housewives," viewers were given the typical weather closing lower third along with additonal winter storm information zooming across the top of the screen. To add to the mayhem, an additional crawl appeared reminding viewers of the DTV transition (we wonder if this one, despite the requirements to run these so many times a day, could have waited). A link to the video appears after the jump.
We're certainly not criticizing a station for getting important emergency information out to viewers but it does seem like a bit of overkill. As mentioned, perhaps the DTV transition information could have waited or at least some of the information could have been combined into the school closings ticker.
This does, however, bring up the age-old argument about station tickers and push-backs: how to best present them without causing fury among (most) viewers? Here in Columbia, Mo., one local station COVERS the picture with its school closings ticker rather than condense the picture size. This a terrible thing to do because it covers up lower thirds during the network news, something that might not seem that important but is awful frustrating when they're not there.
Personally, I like it when stations use a small but well-designed lower third with at least three lines of information. If done right, this layout allows for enough room to list three school closings at once, meaning it takes less time to get through the alphabet (which probably makes thousands of eager school kids happy) as well as additional information such as road condition hotlines. Also here in Columbia, another station inserts the closings received in the last five minutes periodically into the normal alphabetical stream, which is a great service to viewers.
Here's a YouTube video of the WBKO-TV's crawl clutter:
The latest in design, production and engineering
Subscribe to NewscastStudio for the latest delivered straight to your inbox.