RTE Ireland updates studio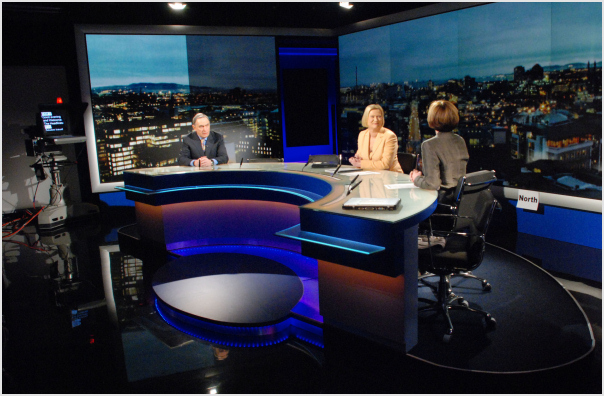 Thanks to a NewscastStudio reader for sending this in, RTE Ireland, the national broadcaster for Ireland, has debuted a updated studio for its newscasts.
From mulley.net,
"This new studio is bigger than what was there before and the background in the studio is walled with Barco screens instead of bluescreens. Videos can be placed on all three walls and the newscaster can actually look at the person in the link now instead of a green screen which makes it a little easier to work with. With the Barco screens too it means they can load new templates into the system and change the look entirely. The screens have been in place about a week so it's early days yet when it comes to the graphics and imagery that RTE will be using. They showed us some mock ups of the Leinster House background and a few more too and they look pretty damned smart. Not of this tabloid redtop wooshy crap that you see on Sky News.
It cost around €1.3M which came out of the surplus RTE had last year before the cuts happened."  More pictures after jump.