ESPNChicago.com launches local ESPN brand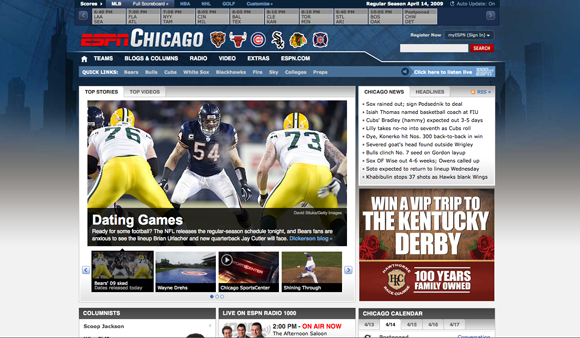 ESPN recently launched its first hyper local sports site for Chicago, ESPNChicago.com
The site contains highlights and stories centered around Chicago sports teams, a quick link to the local ESPN radio affiliate, a special Chicago branded SportsCenter show and many local blogs.
From LostRemote.com
In addition to ESPN stories on Chicago teams, the site also features content from the ESPN Radio station as well as the ABC TV station in town. It also features a "Chicago SportsCenter" video report, anchored by none less than Chris Berman (we'll see if he'll continue to anchor it after launch.) ESPN says they'll see how the Chicago site does, and if it succeeds, they'll launch more local sites around the country. My prediction: It will be a smashing success, and it could ultimately become the top sports destination in Chicago.
ESPN is now on its way to have many hyper local branded sports sites and maybe some day local sports networks, much like FSN. These types of sites could also take the place of local news sports departments, especially if ESPN becomes very close partners with the local ABC affiliate. They could easily have ESPN SportsCenter be the sports block on the local news.
Only time will tell what ESPN's true plans are for their new strategy.
The latest in design, production and engineering
Subscribe to NewscastStudio for the latest delivered straight to your inbox.