CBS O&Os update Web sites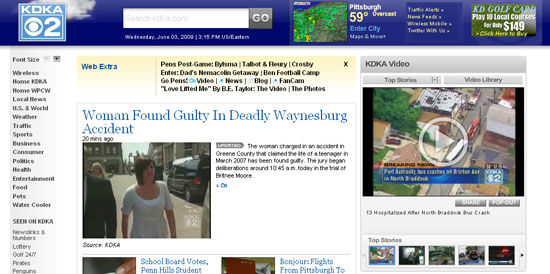 CBS has taken the reigns off a new look for its O&O station Web sites, such as this one for KDKA-TV in Pittsburgh.
The new look retains the previous design's simple look but switches to a more large screen-friendly centered layout.
For more and a before look, see after the jump.
Another new feature is the addition of weather imagery behind the station logo. This approach to display current conditions at a glance seems to be a growing trend with news sites. In this implementation, the look is particular effective in that it blends in with the design and logo so well.
The design also retains the widget-like weather and traffic alerts, but they aren't quite as accessible as they used to be.
Interestingly, the site also puts its search box in a very prominent location. The form element itself is styled in such a way that its size and white color seem to dwarf the weather radar image.
Gone from this version of the design are the multi-colored navigation buttons on the left side. However, the designers have kept the navigation bar's relatively narrow width, which is a smart way to save screen real estate.