CBS News takes wraps off new layout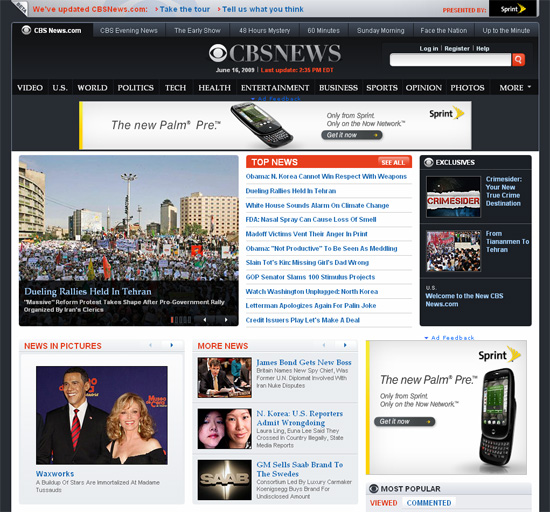 CBS News has unveiled its new look to the public. The redesign, which CBS previewed in May, switches the site over to a darker, centered look.
The homepage now features a scrolling image feature, headline scrapes and a featured video box near the top, with additional headlines and slideshow links in the second row.
More commentary after the jump.
Overall, the new homepage lacks the punch of other sites. It seems the lead story photos aren't big enough and the headlines don't stand out enough to really make scanning easy.
Farther down the page, CBS organizes news sections into three column horizontal modules featuring a thumbnail, main section headline and summary and links to other stories, a layout that's becoming popular among news sites and is quite effective.
The various CBS News programs each have a uniquely-branded header design, of which the "60 Minutes" one really stands out as well done. However, these program-based pages make it rather difficult to navigate back to the main CBSNews.com areas if one is looking for headlines in general.
Another big issue with the site is its use of Arial as body type. The on- screen version of Arial has always been a bit hard to read, especially in large blocks of text. CBSNews.com does offer the ability to increase type size, but the larger size may not be quite big enough for some. On the flip side, ABCNews.com uses Arial for its body copy, but does a better job of sizing it and adjusting the line spacing for readability. MSNBC.com, meanwhile, makes use of Georgia and Verdana, two fonts that were designed for on-screen Web use.
The latest in design, production and engineering
Subscribe to NewscastStudio for the latest delivered straight to your inbox.