New CNN.com adds some clutter, emphasizes photos better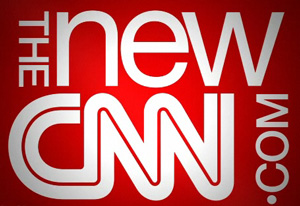 The new CNN.com rolled out over the weekend, but today seems to mark the site's official debut.
In this incarnation, CNN has stayed on the simpler side of news site design, though this version is a bit more cluttered than the old site.
One of the most significant change is the switch to a bold read header bar with reversed CNN logo that is centered rather than left aligned like logos on many sites. This header sometimes seems a bit distracting since its visual weight is increased by the use of such a bright color across the entire page.
I'm glad to see CNN kept the "story highlights" bulleted summary of stories, though its new location on the left column is a bit hard to find at a glance.
It's interesting to note, however, that the new design of CNN.com doesn't seem to relate well to the network's recently revamped-on air look, which uses black rectangles with subtle rounded corners. Instead, the site uses straight corners and aforementioned red color.
Strong and consistent branding across platforms is often seen in TV news sites and I would have liked to see some additional connections to the network's on-air look (in fairness, MSNBC.com doesn't do a very good job of this either, since it's rainbow header represents the all-but-abandoned "Fuller Spectrum of News" campaign and is completely absent from the current graphics package).
One of the redesign's nice touches is its emphasis on photography. MSNBC.com raised the bar in the use of large photographs on its latest redesign, but stopped short by only offering it on the homepage and full-blown slideshows.
CNN.com offers a large dynamic photo gallery at the top of photo pages, as shown below. The photo galleries also offer a caption box that can be hidden, a very useful feature.
That said, CNN.com seems to, at least in some of the stories I tested, be doing one of the things I find most annoying about news sites' use of photographs — placing a caption-less photograph on the homepage that doesn't appear on the main story page.
While most of the time this isn't necessarily a big deal since the headline and lead-in text often give enough context for readers to fill-in-the-blanks and "create" their own option. However, sometimes a photograph on the homepage has an intriguing nature to it and having the caption available somewhere would be very helpful but, more often than not, there isn't one to be found.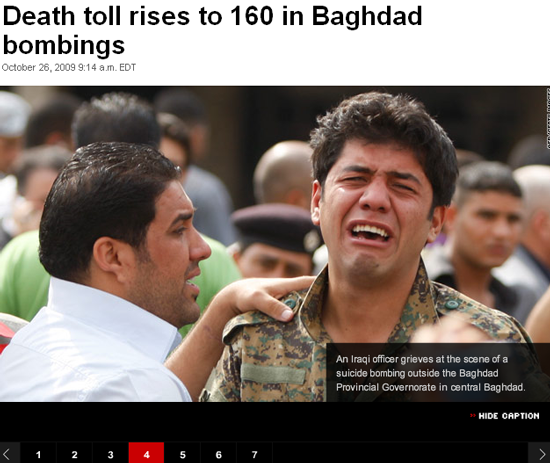 One issue that I find annoying is how CNN has elected to display video clip thumbnails when they are embedded in the story text.
As you can see in the sample below, the thumbnails wrap awkwardly around the left side of the text. This is a big no-no when designing how large blocks of type are laid out since humans' eyes are trained to, when they approach the end of the line, jump back to read the next one. However, with this layout, the eye can get confused when it returns to what it expects to be text and instead sees an image.
A better option would be to left align the thumbnail, which is a good balance between making sure readers notice the thumbnail but also making it easier on the eye.
The overall look also seems a bit off-axis, especially with the narrower "related topics" box under it.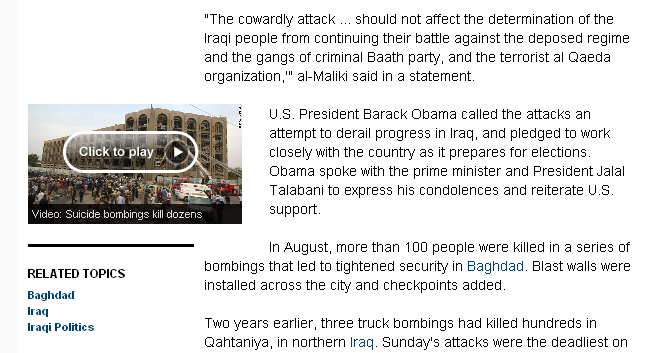 Another feature touted in this redesign is "NewsPulse," but overall it's a big disappointment. For what I can tell it's nothing more than a collection of "most popular stories" lists than any Web site content management system can generate. Some fancy code and animation effects make it seem a bit more sexy, but it's definitely not worth writing home about.
NewsPulse would be a lot more useful it users could select and compare multiple categories and story types. It would also be nice to see some kind of integration with social networking sites, especially Twitter, so news topics with a higher number of tweets or status updates would be integrated into the tallies somehow.
It's also a little pathetic to see zero for all stories under the comments column. For what I can tell, there doesn't seem to be a way to actually comment on a story, so I'm betting this is a feature that's yet to be unveiled. It will be interesting to see how CNN integrates commenting into its site. MSNBC.com offers this feature via its sister site Newsvine, but story commenting isn't available across the board on national news sites, though local newspaper and TV stations have seen some success with the feature.
It should be noted that the feature is still labeled as "beta," so not all features may have been integrated yet.
CNN.com is also offering a video tour of the new site.
The latest in design, production and engineering
Subscribe to NewscastStudio for the latest delivered straight to your inbox.