Ambitious 'Strategy Room' Webcasts stream eight hours of content a day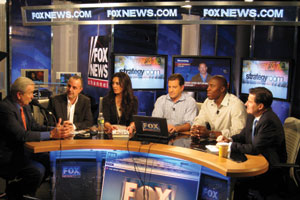 AdWeek has an in-depth profile on Fox News Channel's "Strategy Room" initiative, a venture that provides eight hours of live Web streaming video a day.
Online Monday through Friday, the program originates from the 14th floor of Fox News Channel's offices in New York City from what is described as a "compact" set.
The set, shown at right, is more fleshed out than many Web show sets, complete with a panel desk (that can, amazingly, squeeze six people around it) and several plasma screens along with a branded header element. The Strategy Room, also uses a second "room" — a studio that contains a more laid back set with brick walls, no desk and funky decorative items hanging from the wall.
Originally part of the channel's 2008 election coverage, the article reports Fox is now using this a key component of its online strategy and may be looking to expanding the Web stream's programming in the future.
The naming choice is rather interesting since it closely mirrors CNN's moniker "The Situation Room," which itself was often confused with "The Situation," a show hosted by Tucker Carlson on MSNBC that was eventually rebranded as just "Tucker."