Google launches 'living stories' project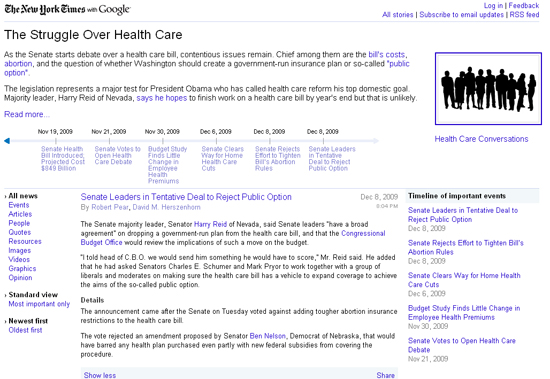 Google has launched an experimental new site that offers up "living story" pages as a partnership between it and newspaper publishers.
The idea is to simplify things for readers by grouping developing stories about a hot topic — say, Tiger Woods — on a single Web page, with updates automatically highlighted at the top of the screen, writes the Washington Post, one of the project's partners.
The name "living stories" is a great moniker since it really emphasizes the service's goal of being a great storytelling tool that uses the Internet real-time power to offer something above and beyond what is typical on news Web sites.
While only newspaper partners are involved at this point, this is certainly an interesting approach to multi-faceted storytelling that could be easily implemented with news providers on other platforms, including TV news.
This technique of grouping news stories together is hardly new, but Google's iteration sports some interesting features such as chronological timelines of how a story unfolds that includes key moments and a visual representation of how the story developed.
Living Story pages are, following Google's typical design approach, relatively clean and offer some interesting, albeit slightly clunky, animation effects. Readers can explore the full text of stories, additional resources and multimedia features all without leaving the single page. Different elements are unveiled by revealing text or jumping to another location on screen — an effect that can be a bit too jarring and disorienting.
To view the Living Stories project, which is still part of Google's experimental projects division called Google Labs, click here.
For more, see the Washington Post's article on Living Stories and The New York Times' report.