'John King, USA' previews new CNN set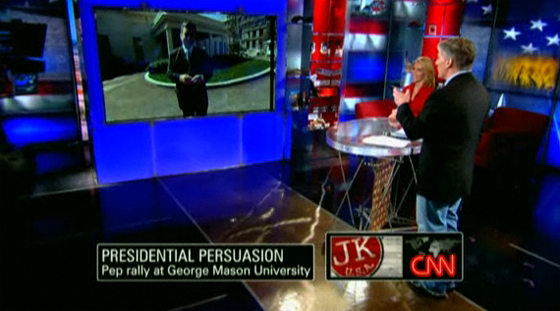 CNN's newest show, "John King, USA," held a sneak peak online today and showed off a new look for the network's Washington, D.C. studio. Continue reading for more images and details.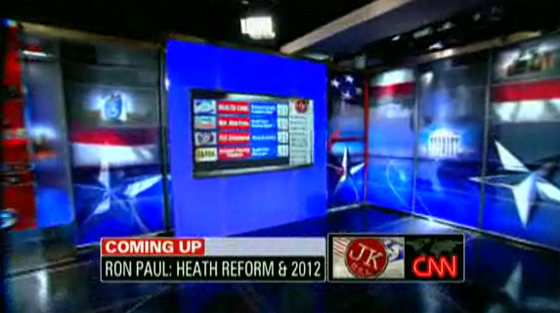 The set uses red, white and blue as its main color scheme, including a bright blue backlit enclosure for a large-screen monitor. The reset of the set includes politically-themed duratrans that feature a 3D rendering of a star as a main element. These graphics are finely detailed and bring substantial visual interest to the studio.
Shelves placed around the space include family photographs from King's own family and his travels across the country.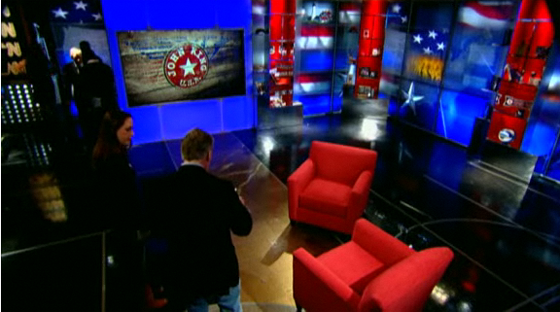 The set includes seating for interview-style segments as well as standup locations.
This set was constructed in an area of the Washington, D.C. studio also used for "The Situation Room" and other D.C.-based programming and appears to make use of some of the existing structural elements and furnishings. In some shots, like the one above, portions of the other set area is visible to the far left.
The set was designed by Clickspring Design, the same company behind the new Atlanta studio along with many other CNN projects including the New York, Los Angele's and HLN studios.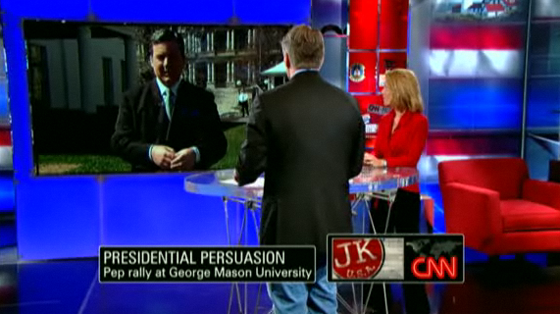 It's also interesting to note King's wardrobe — a suit jacket with jeans. Clearly this show is meant to have a more informal, casual feel. It's also interesting to note how CNN much CNN is banking on this program by giving it its own studio, whereas many of the network's other programs share sets.