Accuweather expands tropical and hurricane info
Subscribe to NewscastStudio's newsletter for the latest in broadcast design and engineering delivered to your inbox.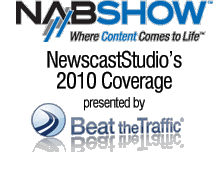 AccuWeather has announced expanded data and integrated forecast tools for its CinemaLive HD graphics system, including a comprehensive set of tropical data.
"Tropical storms and hurricanes are both a forecasting challenge for the locations affected and a nationwide news opportunity. We've architected the new data set to address both requirements," stated Ryan Ayres, executive director of TV products and operations, in a statement.
"The new feed has readyto- air graphics and data to support in-depth hurricane news segments. And we have worked extensively with chief meteorologists in hurricane-prone areas to meet their needs for an exhaustive body of accurate data that could also be quickly and easily referenced and incorporated into their weather forecasts and broadcast segments."
CinemaLive HD is the only graphics display system to deliver near real-time data from the National Hurricane Center and NOAA "Hurricane Hunter" aircraft reconnaissance missions. All data is reviewed by AccuWeather's proprietary algorithms to ensure its quality and integrity.
Some of the data included:
Current Position Information
Advisory Date/Time
Latitude/Longitude/Position Accuracy
3. Cyclone Movement Speed & Direction
Minimum Pressure
Eye Diameter
Maximum Sustained Winds and Wind Gusts
Wind/Sea Radii
NHC Position Reference from Advisory
National Hurricane Center Forecast Tracks
Automated Tropical Cyclone Forecast Center (ATCF) Models (over 50 models)
Forecast Valid Date/Time
Latitude/Longitude
Maximum Sustained Winds
Maximum Wind Gust
Wind Radii
Exclusive forecasts from the AccuWeather Hurricane Expert Forecast Center
Risk to Life and Property
Maximum Wind Gusts
Rainfall Amount
Storm Surge
Watch and Warning Area
Accu-Trac Eyepath Forecast
NOAA/U.S. Air Force Hurricane Hunter Reconnaissance Data High Density Observations
Altitude
Wind Speed and Direction
Temperature
D-Value
Dew Point
Max Wind Speed