Miami station goes virtual with bright pink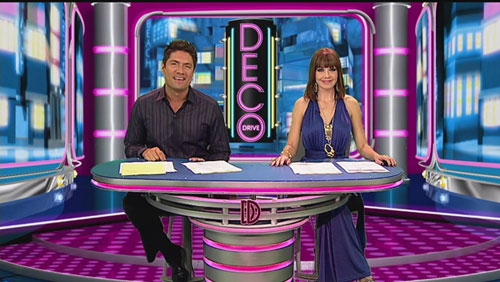 WSVN-TV, the Sunbeam-owned Fox station in Miami, has given its lifestyle and entertainment program "Deco Drive" a new look. See a video clip and vote in our poll after the jump.
The show is now using a virtual set that is overwhelmingly bright pink — a move that seems over the top even for a broadcasting group that's know for its snazzy graphics and fancy camera moves.
On the outer areas of the screen, the set includes animated elements that are very distracting and make it seem like the anchors are in some kind of tunnel that defies the laws of physics (seen here in this video clip).
While it's important to remember the program is a isn't a news show, it does feel like the colors are a bit too saturated and overdone. In addition, the virtual background, which was reportedly done in house, is obviously fake and could benefit from a bit more realistic 3-D.
The show also saw new graphics and a tweaked theme song with the new set debut.
Share your thoughts on the new look in our poll below.