CNN to add supercomputer 'anchor' to election coverage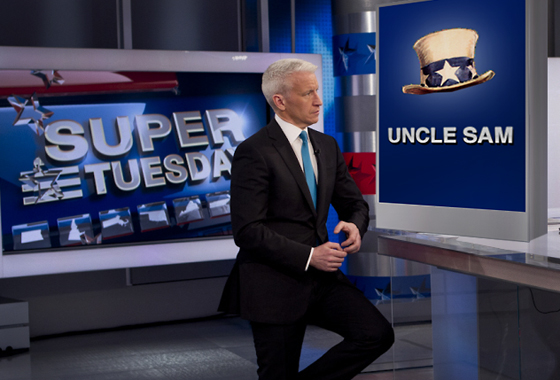 CNN has pulled out another toy from its technology arsenal — a supercomputer coanchor for its election night coverage.
The technology, which has been in development for nearly five years, will connect the power of a supercomputer with human anchors on the set during election coverage.
Nicknamed "Uncle Sam," the supercomputer is actually housed in a climate-controlled room that was built especially for the racks of servers that fuel the computer.
Out in the studio, meanwhile, a vertical flat screen monitor situated behind the anchor desk will be the visual representation of the computer itself, similar to the setup game show Jeopardy! used with IBM supercomputer Watson during a series of games.
During coverage, the supercomputer will use its massive database of election, demographic and other data to provide realtime commentary and feedback along with that of the human anchors.
Like Jeopardy!'s Watson, Uncle Sam's monitor will change color as it "thinks" and a synthesized voice will allow it to "speak."
The system will also be able to control what cameras and video feeds are shown on air, as well as manage the graphics systems.
In addition, Uncle Sam is equipped with voice recognition technology that allows it to "listen" to its coanchors and provide witty banter. It can also analyze hundreds of incoming video feeds at once using facial recognition software to figure out who's who.
Social media will also play a key role in the system, with millions of tweets, Facebook posts and other content all fed into the system in real time, combining with the system's already massive knowledge.
The network has been running test sessions with the computer and will continue to do so as the election draws closer.
"They've discovered Uncle Sam is actually way smarter than any of the human anchors," says a source, who requested anonymity. "There's a big debate going on right now whether or not it should be dumbed down a bit so the anchors don't look bad."
Uncle Sam also has a bad habit of interrupting the test human anchors when they say something inaccurate.
In addition, the system has a "boredom meter" built in that, combined with realtime ratings data fed to it and analysis of the discussion taking place, can steer the conversation into more compelling topics.
In one test, the system has successfully changed conversation from a debate on the debt ceiling to what Kim Kardashian's new wardrobe, all without the human anchors even noticing.
You can follow Uncle Sam on its Twitter account for updates.