ABC News releases new iPad app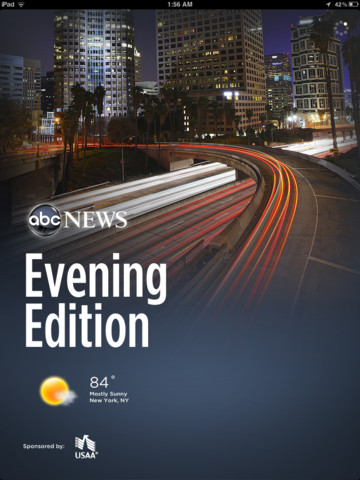 ABC News has released a new iPad app that's designed to tailor itself to users' needs based on time of day.
The app now includes three "editions" — one for morning, one for midday and one for the evening.
Based on internal user data, ABC is opting to focus on offering quicker headline-style content in the morning, updates for midday  and more in-depth content and video for evening hours.
"Being the first broadcast news organization to have an iPad app gave us a distinct advantage in crafting our new app," said Joe Ruffolo, senior vice president of ABC News Digital, in a statement. "We saw that our iPad users were most heavily using the app between 7 and 10 p.m. And with that we decided to enhance the user experience based on what time of the day it is."
Since launching its first iPad app in 2010, ABC research shows users view 1.5 times more video content and read 20 percent more during the hours of 7 to 10 p.m. than other parts of the day.
The app will also updates constantly throughout the day based on the latest news and trends.
Other key features include location based weather, slideshows and the ability to swipe through stories easily.
The app is free and available for download from the Apple App Store.
The latest in design, production and engineering
Subscribe to NewscastStudio for the latest delivered straight to your inbox.