CNN readies new D.C. studio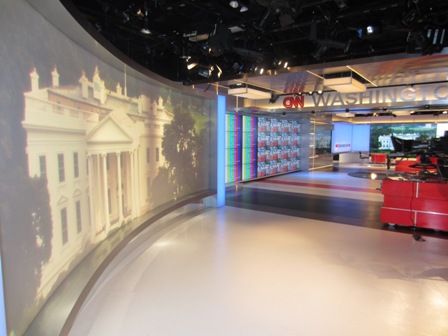 CNN is prepping its new Washington, D.C. studio, TV Technology reports.
The cable network has been operating from temporary sets since early in 2012, when it announced plans to remove the bureau's existing sets and strip back Studios A and B to black boxes.
The new set spans some 2,200 square feet but can be divided using a glass partition to create two 1,100 square foot studios capable of feeding live programming to multiple platforms at the same time.
Also included in the new set are two "Magic Walls" plus over 100 additional monitors. These 82-inch monitors are located on either end of the space, in addition to a curved rear projection video wall.
In addition, an additional 32-panel video wall can be split in half by the glass divider. An additional 18-monitor video wall in another area of the studio is slated to be utilized to display electoral vote data on election night, among other uses. Two mobile video monitors add to the studio's flexibility.
The set is shot with nine cameras, with four designated for each of the two areas, plus a jib. On election night, plans call for a total of 11 cameras, including three on peds, three hand held units, three Steadicams, the jib and one robotic camera.
Hidden behind the set are over 2,000 feet of cabling and 2,500 feet of color changing LEDs.