Indianapolis station uses wrong photo to announce its own new GM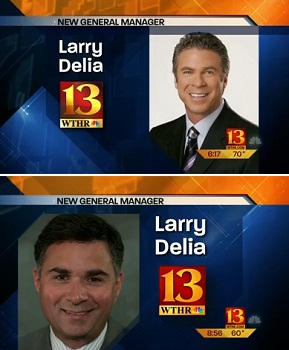 WTHR-TV, the Dispatch Broadcast Group NBC affiliate in Indianapolis, gave a warm on air welcome to it newly hired general manager, Larry Delia, during its 6 p.m. newscast last Friday. That welcome included a fullscreen graphic with Delia's name and a photo.
The station thankfully got the new boss' name spelled correctly — but not the photo.
The photo used was actually of Los Angeles forecaster Pablo Pereira, who works at the Fox O&O KTTV-TV.
WTHR-TV corrected the mistake with an updated graphic on its late news and the next morning's broadcast.
KTTV-TV, meanwhile, reported the flub and was also quick to point out that Pereira isn't heading anywhere and was, in fact, recently promoted.
No word on how, exactly, the mixup made it on air.