Q&A: The latest from the industry with FX's Mack McLaughlin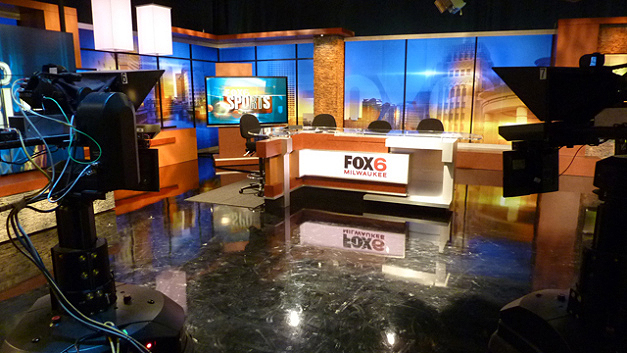 Subscribe to NewscastStudio's newsletter for the latest in broadcast design, technology and engineering delivered to your inbox.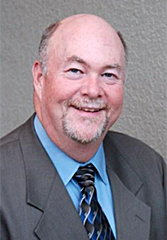 We recently talked with FX Design Group Owner and Creative Director Mack McLaughlin about best practices, trends in the industry, virtual sets and LED lighting.
FX Design Group recently celebrated 25 years in the business and has created sets for some of the nations top broadcasters. FX has grown to include a full visual range, including: lighting, motion graphics and live themed environments.
Europe is sometimes ahead of America in certain trends. What set trends do you see around the world that maybe aren't present here?
Typically lighter and brighter, less wood and natural materials.
They are very early adopters of big technology and digital and virtual scenery. They don't, however, seem as concerned with the "realness" of the setting for news delivery.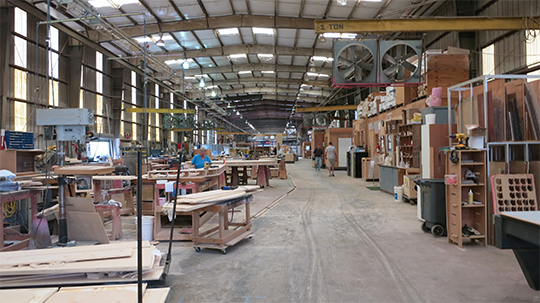 FX Design Group is one of the few set designers with an in- house scenic shop. What is the advantage of that?
The designers are literally five feet from the shop floor, so they are able to walk the shop floor and fix issues before they become major problems.
We also have weekly meetings with designers, project managers, account managers and shop managers to go over every project and also brainstorm new ideas and concepts. We are trying to build some more "creative" downtime in the designer's schedule so they can spend time creating new materials for our CNC (computer controlled router table) and Vaccuform (custom plastic forms) machines.
Ultimately, when something goes wrong, there is no finger pointing between separate companies looking to duck the issue. If it's our mistake, we own it and fix it.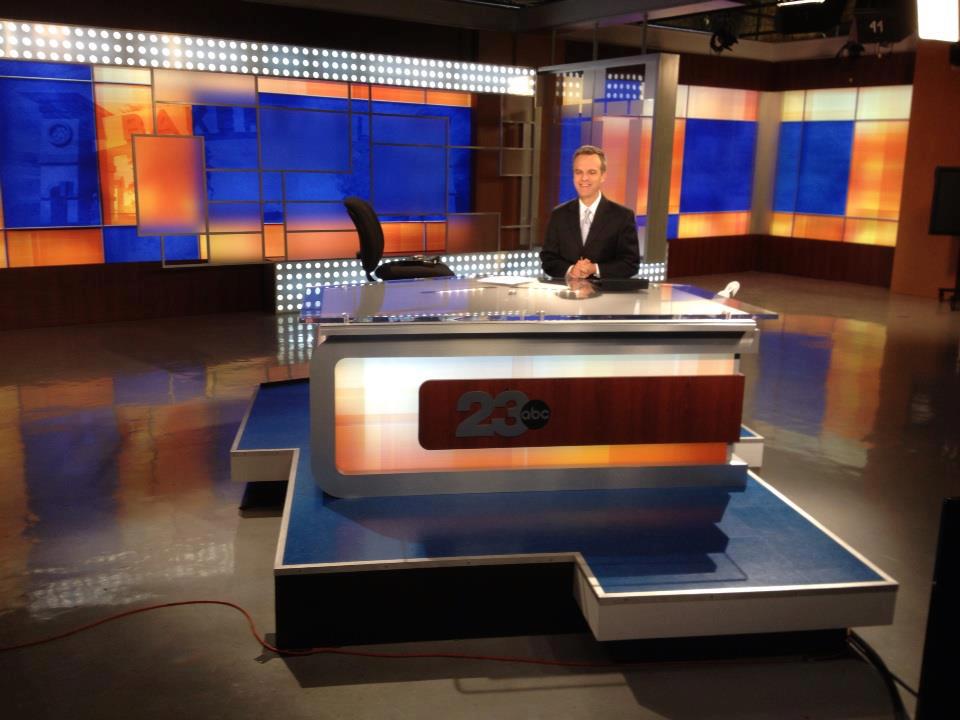 If you could have a station do one thing every week to enhance its set, anchors and overall newscast, what would it be?
Keep it clean, both from dust and fingerprints but also the clutter of papers and Post Its.
You recently unveiled the findings of some new research with Magid, what did you discover about audiences and virtual sets?
Our number one question based on conversations with news directors was "would the audience see them as too fake and ultimately believe and trust the anchors reporting from them?"
Our research found that when the designs were well done and rendered in true 3D, the answer was a resounding yes. This holds true for both 3D Digital as well as virtual.
What is a 3D Digital set and how do viewers react?
3D Digital is our own term for a set that has been drawn in 3D software and rendered at a high resolution, typically much higher resolution than virtual can currently produce.
The one limitation is the cameras cannot move during a shot, but you can set up multiple cameras and shots on a 3D Digital set. The beauty is there is no additional equipment costs and your designs are no longer limited by budget or reality … just your imagination.
Why does it help for lighting designers to have a theatrical background?
I am probably biased here as my degree is in theatre, but I think we add a little extra drama to the lighting package in terms of color and contrast.
It is also equally important to light the scenic elements and balance between backgrounds, monitors and anchors, I've seen many lighting designers only light the anchors and not provide much lighting for the scenic elements.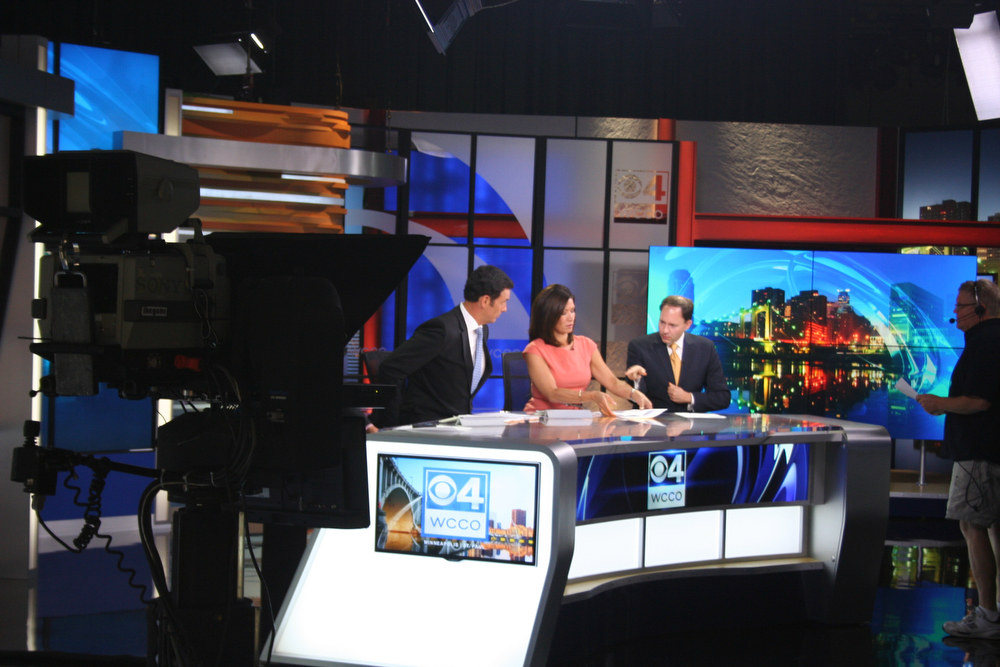 Lighting continues to be an important part of a stations on-air look. What should stations make sure to do to keep it looking bright and inviting?
Check for lamp burnouts daily, check focus weekly and do a complete touchup two to four times per year depending on the number of incandescent fixtures in the package.
If you can convert to an LED and fluorescent combo package, it will reduce maintenance and lamp costs considerably and keep things looking good with much less upkeep.
What do you think about the flat lighting that so many stations in cost cutting moves have undertaken?
Personally I don't like it, especially now with HDTV.
Flat lighting combined with the new HD cameras tends to flatten everything out and make the anchors look like they are plastered right onto the scenery.You need hard lighting to sculpt them and separate them from the scenery, similar to lighting for dance.
Is the future of LED studio lighting here?
I believe it is.
There are a few lighting manufacturers that have done it right, they have used the fixture housings that have been the workhorses of the industry for years and found a way to put a single source LED lamp in them to create the same great lighting at a much lower power and heat rating.
This makes it much easier for designers to work with the same plots and lighting ratios. while giving the studios lower power consumption, HVAC costs and maintenance issues.
FX has been in this industry a long time. How do you keep it fresh?
We are not afraid of change, we actually thrive on it and seek it out, and that's why we've commissioned two Magid studies over the past five years.
We stay ahead of trends and since we also do projects outside of Broadcast, we have a front row seat to see new concepts in theater, live events, retail and architecture, as well as international and national broadcast studios.
Our designers also have a varied background with degrees from art school, commercial design, architecture and theater and we ask them to collaborate to come up with new and different concepts. Since we also have lighting designers, technicians, carpenters, craftsmen and craftswomen all in the same place, we are constantly R&D-ing new materials and processes to push ourselves and our clients.
We are also a very collaborative bunch.
We ask lots of questions and really try to dig into the brains of the station teams, since we want them to be as involved in the design process as we are. After all, they will be living in this new design for five to 10 years and we want the design to stand the test of time.
The latest in design, production and engineering
Subscribe to NewscastStudio for the latest delivered straight to your inbox.