Q&A: BDI launches a set halfway around the world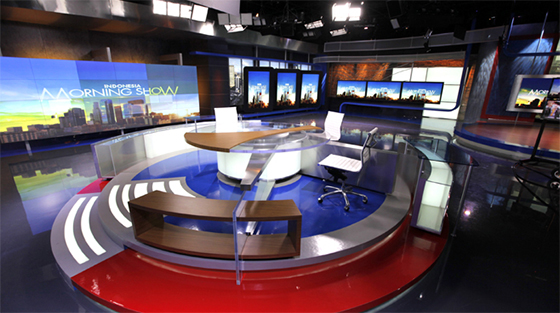 Subscribe to NewscastStudio's newsletter for the latest in broadcast design, technology and engineering delivered to your inbox.
It's not everyday a new network launches with as much energy, resources and talent as NET. in Jakarta, Indonesia. This opportunity presented Broadcast Design International with a unique project, located halfway around the world.
BDI's George Edelman takes us behind the design of NET.
Talk a little about the background of the project?
NET. was a concept created by co-founders Agus Lasmono and Wishnatama Kusubandio. It was their dream to start a new news entertainment multimedia platform network together.
The fit between them was noticeable from the beginning, both bringing different skill sets but at the same time a commitment and determination that was never in doubt. It was a true pleasure to be part of this process.
Jakarta has the largest population in Indonesia so to get the attention of this new multi-platform generation they wanted to launch with a very professional, contemporary and technological environment that would appeal to the tech savvy population while having the ability to grow and develop programs as needed.
This was a complete start-up with a work force of over 300 employees.
What were the client's specifications / needs?
The specifications were really predicated on the space available which we all agreed on. There happen to be three vacant floors in a hi-rise in downtown Jakarta that with careful planning turned out to work exceptionally well.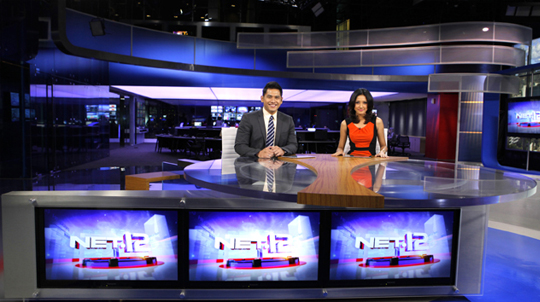 NET. needed a large studio that would accommodate a home base for news that could shoot with an on-air working newsroom in one direction and have a completely different look in another.
Wishnatama Kusubandio wanted to have a working news room to show the level of commitment of their news gathering team. They plan to provide the latest news and entertainment stories in Indonesia and around the world. News was just one aspect, various interview programs, some with live entertainment and some with a relaxed sit down atmosphere were requested.
BDI went through a couple of versions initially but the main concept and layout fell into place from the beginning. For implementation BDI provided a complete Turn-key package. Designed and built in the USA, shipping, installation and Lighting Direction also by BDI.
What makes this set unique?
The location itself made it unique, being on the 28th floor in downtown Jakarta. There was limited access to the 28th floor from the street level and all the large set pieces needed to be hoisted up the outside of the building.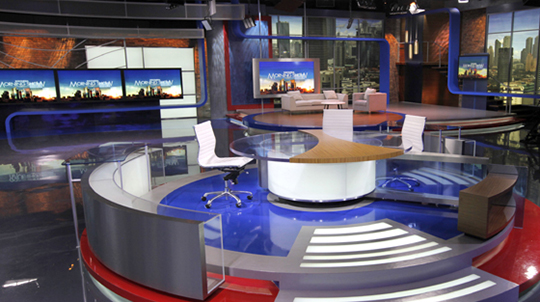 Having four different backgrounds from the 360 degree circular anchor island makes for a very unique and flexible design. Besides the various interview venues, NET. wanted a green room that had direct view to the studio and could be shot from within the room looking into the studio.
Lastly there was a terrace over 2,000 square feet already located next to the studio. This area was renovated and is now used for outdoor cooking and demo segments as well as a number of other purposes. BDI was able to get a grid height of 18'6" in the studio which allowed for some very interesting shots with a jib.
How did you ensure the set would shoot great on air?
The BDI design team discussed the types of programs, the kind of cameras to be used and how the various shows would be shot. Then once the design was drawn to scale and studio dimensions were verified we modeled the design in 3d. From the 3d model we are able to see any camera angle we chose to bring up.
This process allows everyone from NET. production team to lighting directors to know what every shot will look like from the beginning.
What technology was used, for both design and implementation?
All of our projects are rendered in 3ds Max with V-Ray. Our models are created in AutoCAD to generate complete detailed working drawings for construction. On the studio production side, we integrated flat panel seamless videowalls, LED accent lighting, and various large display monitors.
How was the workflow, since the client was overseas and there was a language barrier?
In Jakarta most of the people speak very good English. Of course international projects pose a little more of a challenge, but with technology today and the internet the world just seems a lot closer.
Of course the biggest challenge is the time zones so there tends to be conference calls or GoToMeeting sessions in the middle of the night or very early morning.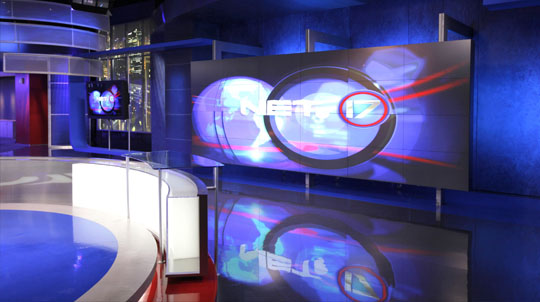 Talk about approaching such a large project with such a unique space and setup.
This project was one of those rare gems where there was a trifecta of positive conditions; good budget, ample interesting space, and a highly informed and motivated client. It all came together. NET. still needed to get their full operation located in the new building and in the end they acquired the entire 27th floor as well for office space and production. The 29th floor was used primarily for upper management office space and conference rooms with a viewing room for guests that had a bird's eye view of the studio.
How has the viewer reaction been?
NET. Media has set the bar very high. While they continue to negotiate more and more viewing platforms, their audience is growing substantially. The reaction from everyone that has viewed the facility is amazement at what they see. This is a first rate Network on par with anything in the USA.
A full gallery of NET. is available on SetStudio.
The latest in design, production and engineering
Subscribe to NewscastStudio for the latest delivered straight to your inbox.