Houston station gets new set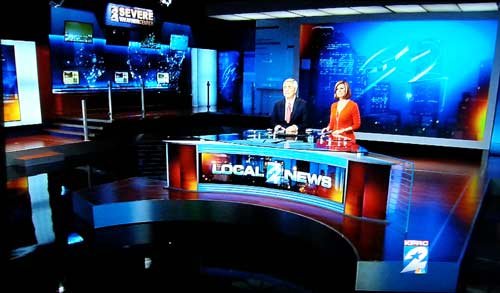 Houston's KPRC-TV, the Post-Newsweek NBC affiliate, has debuted a new home for its newscasts.
The new set's centerpiece is a large video wall situated behind the anchor desk and topped with an internally lit header. Backlit elements and plexi panels add depth to the camera left and right walls.
The set's anchor desk is fronted with an arch of video panels.
The anchor desk itself seems a bit disproportionate to the rest of the studio, especially the scale of the video wall behind the anchor desk — making the anchor look as if they are sitting at the "kid's table" (an analogy that seems to be exacerbated when the weather and sports anchors stand at the desk to join the seated anchors).
An expansive weather center is situated to camera left — and area that almost looks too large for the smattering of technology found in it. Forecasts are delivered from a 3×3 flat panel array that is also used for standups and tosses to live shots. An additional, vertically mounted 2×2 array is on the opposite wall and is used for sports standups.
See a complete collection of screen captures of the new set in use on Mike McGuff's website.