Duluth station fakes outdoor parade coverage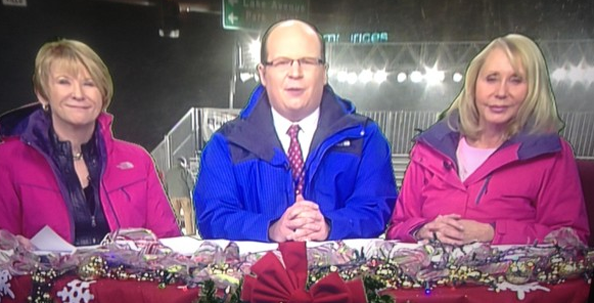 Call it a little holiday magic, maybe.
Sharp eyed viewers of Granite Broadcasting's KBJR-TV, the NBC affiliate in Duluth, Minn., noticed some interesting phenomena going on during the station's live coverage of the city's annual "Christmas City of the North" parade — such as the fact the anchors weren't wearing gloves. Or that their breath didn't appear visible in the cold air.
Of course, maybe the anchors were under a nice cozy tent with outdoor heaters.
But how does that explain why they are giving off an odd glow? Oh, that's right, because they're actually sitting in front of a chroma key wall in a studio, with a live image of the parade keyed in behind them.
"Come on guys. This is Duluth, this is the 'Christmas City of the North,' would Santa sit indoors during an elf parade? Does Al Roker sit inside for the Macy's Thanksgiving parade? Of course not, so why are hardy Duluth anchors sitting indoors wearing big winter jackets?" wrote Tony Hart on a local radio station's website.
The station went to great lengths to create the look of a broadcast booth — even sitting the anchors behind a table decked out with holiday bling — but neglected to pay attention to the lighting and key, which made it rather obvious, at least in my eyes, that there was some TV trickery going on here.
This setup reminds me of watching a shuttle launch on WESH-TV from my Orlando, Fla. days. The station opted to project a live feed from the Kennedy Space Center on its on set RP screen, which, especially on close shots, gave the illusion the anchors were reporting from a broadcast tower near the launch pad.
Of course, KBJR-TV's endeavor wasn't for hard news per se (such as a shuttle launch) — which is likely the justification station management would give. Yet having your news anchors dress up in what are essentially costumes and digitally inserting them into the actual event they are covering just seems wrong.
Live video feeds onto on set monitors or chroma key are hardly rarities in TV news — but they are typically combined with enough wide shots and other elements to make it clearer that it's just an visual effect.
That said, it's always shocking (and a bit entertaining) how easily viewers fall victim to TV tricks such as these — I've heard from a surprisingly number of people think that duras (not to mention video walls) are actually windows. Even those weather beauty shots that are often shown behind forecasters confuse some people into thinking their favorite weatherman is mobile.
What do you think? Did KBJR-TV go too far? What about other instances of projecting live video on to on set screens?