CBS Atlanta debuts new brand, set design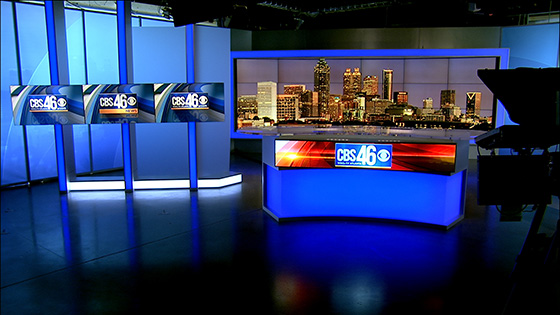 CBS Atlanta, WGCL-TV, unveiled its new brand this week, complete with a new set.
"The CBS station I have spent half of my career at now is the Madonna of stations. Reinvention is our brand," wrote Stephany Fisher, WGCL-TV anchor. "After being Clear News, Atlanta's News Channel, CBS 46, & CBS Atlanta, we are returning to our roots and becoming once again CBS 46."
Along with changing from CBS Atlanta to CBS 46, WGCL-TV also adopted the new slogan "Working for a Better Atlanta."
As part of the rebrand, WCGL-TV worked with Orlando based FX Design Group to create a new multipurpose studio.
"We wanted a contemporary set that shows how nimble our news team is and showcases our content in every way," said Trey Fabacher, VP and GM, CBS 46. "I appreciate working with Mack and FX because they truly listen and bring ideas to life. We wanted Atlanta and the many surrounding counties reflected in this design with the ability to make our storytelling as graphically rich as possible."
The set pairs technology with versatility, creating a contemporary design that has multiple angles, presentation points and backdrops.
"We have a beautiful new set with a breathtaking view of Atlanta behind the news desk displayed on what has to be one of the largest monitors on air at any local TV station," wrote Fisher. "There is a really cool weather center that's not only fully functional for forecasting and making graphics but fun for the meteorologists to use. There is a kitchen area, interview set, morning set, and several in studio locations boasting large monitors and tables. It is the nicest studio I've not only ever worked in but ever seen."
The main anchor area combines a sleek backlit desk with a curved 3×6 video wall, comprised of 46" monitors. A tvOne CORIOmaster Mini serves as the control unit for the video wall, and allows CBS 46 the flexibility to change backgrounds, add graphics, video and content.
To the left of the anchor desk is a reporter standup area, with three monitors that can pivot from vertical to horizontal positions.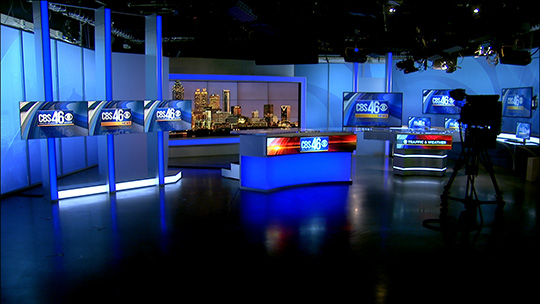 The set uses a predominately blue color scheme, with flashes of metal and dramatic lighting.
"We really wanted to integrate and stay true to other key CBS affiliates by utilizing a lot of blues and silvers," said Stephen Ricker, FX designer.
Both the anchor desk and weather desk uses Christie MicroTiles to add branding for newscasts, breaking news and severe weather situations.
LED lighting was used for the studio, presenting a green choice for CBS 46.
"With the help of Desisti Lighting, these LED configurations come to life and sets take on a living, breathing feel all their own," said Zach Osborn, FX lighting director.
Also on NewscastStudio
"This was an incredibly fun set to design due to the team in place at CBS 46," said Mack McLaughlin, president of FX Design Group. "With a very forward thinking leadership team, you can really push the design envelope to create exactly what they envision. Meredith is a very progressive ownership group and it speaks volumes in the design process."