PrimeTime announces GUS 51LED Fresnel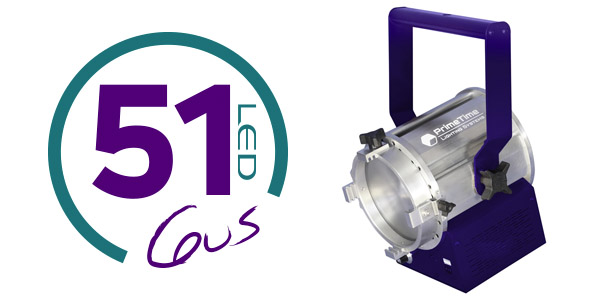 PrimeTime Lighting Systems has released the GUS 51 LED Fresnel, which is the equivalent of a 1,000 watt traditional fresnel.
The new lamp requires non fan and is energy efficient, drawing only 58 watts. The lights optics create a even wash of light from side-to-side and is adjustable from a tight 11 degree beam angle at full spot to a wide 80 degrees at full flood.
"PrimeTime's unique 'Therma-draw' heat dispersion technology results in a bright LED Fresnel light that is cool to the touch and dead quiet – no fan," said Glen Harn, PrimeTime CEO. "Our advanced optics with high quality Micro-Fresnel lens systems result in the most even wash of light you're likely to find in any LED Fresnel, with less than 2.8% decrease in brightness from center to outer edge."
Features include:
PrimeTime's exclusive "Steady Glide" smooth focusing transport
100% machined, extruded, and formed aluminum construction
Diodes are under-driven in ALL PrimeTime LED products to extend diode life and color balance
CRI over 90 results in accurate color rendition, even with ultra high-def TV production
Lamp life rated at 50K+ hours
Equipped with DMX, 10v, and on-board dial for versatile dimming
Available in either 3,000 or 5,000 kelvin color temperature
Manufactured in the U.S.