Capturing Aggie Spirit: Setting a new standard at Texas A&M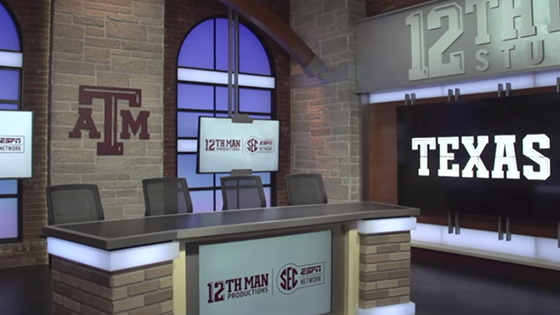 Subscribe to NewscastStudio's newsletter for the latest in broadcast design and engineering delivered to your inbox.
In part two of our Capturing Aggie Spirit series, we dive deeper into the set design by JHD Group and learn how they worked with Texas A&M to create a standout sports set design.
From the start, capturing the Aggie brand was a must for JHD Group as they worked to complete three broadcast studios for Texas A&M.
"From the outset we understood the necessity and deep importance of the Texas A&M brand to flow from the space and connect the audience to their passion," said Greg Arther, creative services director at JHD Group. "By developing a real understanding of what it meant to be an Aggie, we were able to key on visual and emotional elements that best communicated the meaning and defined the space both on-air and as a recruiting tool."
From its arched header and window treatments to the brick facade, JHD Group worked to capture Texas A&M and Kyle Field, home to Aggie's football program.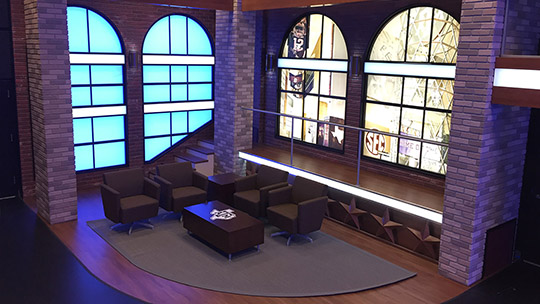 "Our aesthetic was reflective of the existing campus architecture incorporating the distinctive, signature brick color and form, archways, and representations of larger elements," said Arther.
The main television studio includes 13 displays, including a 3×3 monitor wall and monitor fronted anchor desk. Monitors also flank the desk on both sides, built into the intricate window design.
The result? A timeless set design that captures the university, it's brand and culture, with enough technology to make the set stand out on a national playing field.
A New Form of Competition
"There is not another set like this one in the SEC, or across the country," said Jason Cook, senior associate athletics director for Texas A&M. "It speaks to Texas A&M's commitment to being a national brand and spotlighting our student-athletes, coaches and teams at the highest levels."
For the SEC, this arms race is only beginning as more schools prepare for broadcast upgrades.
"The set serves a functional piece as the anchor for our TV Shows, but the set also serves a role in as a centerpiece in the recruiting process as it is a visible example of our commitment to our coaches, student-athletes, and teams to have a consistent branding home as we create the video elements and messages of Texas A&M Athletics," said Andy Richardson, director of 12th Man Productions.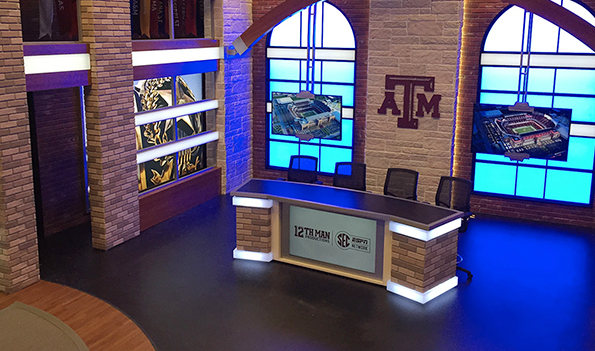 As other schools look to upgrade, JHD sees its work with Texas A&M as a benchmark to beat.
"We feel that through the achievement at 12th Man Productions we've been part of a foundational and potentially game-changing movement across college sports broadcast and branding," said Jeff Hall of JHD Group. "Being the first of it's kind we're confident that it will be used as a benchmark for what is possible with cogent design and branding goals within the university system."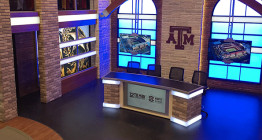 Set Design
Texas A&M
View a gallery of this project…
By the Numbers
Main Television Studio
44'x29' space, approximately 1250 square feet
Grid height 16'-6"
LED incorporated into windows, light boxes and ribbon details
Displays: 60" (2) fixed, (2) rotating mounts, 3×3 55" in video wall
4 position Main Desk
Seating Area, Perch
Radio Studio
11'x19', approximately 200 square feet
Cyc Studio
26'x22', approximately 540 square feet