How to plan a successful webcast studio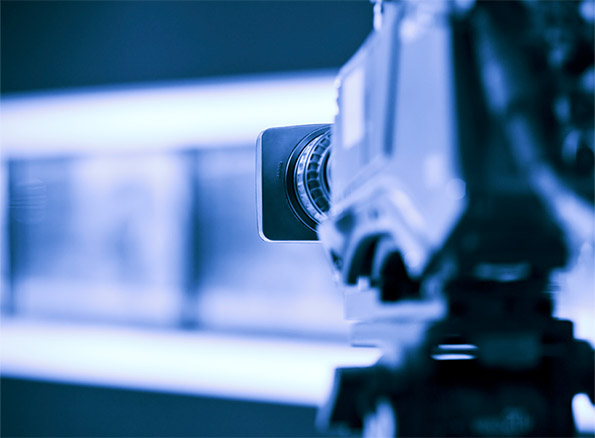 As viewers leave traditional media and flock to the Internet in droves, the publishing and media industries have discovered the hidden power of webcast studios.
Custom designed webcast studio environments offer several unique opportunities for the savvy marketing executive looking to engage their audience:
Express brand spatially as an immersive experience
Enhance content and core messaging
Capture and retain audience viewership
The secret to building a successful webcast studio
Before the project team is assembled, and before the budget is determined, successful webcast studio projects begin with a good plan.
Not only does good planning prevent costly mistakes or missteps, it's also a strategic part of creating a broadcast environment that fits your company's culture and brand.
One secret to planning a successful webcast studio is engaging an experienced designer early in the process to help identify the needs and potential options for the project.
A designer experienced in webcast studio design will guide you on:
Factors that will influence the cost of your project
Common webcast studio formats and options (and which may be right for you)
Potential project pitfalls that may derail or delay your project
Determining the right budget
An experienced designer will help you determine a realistic project budget, considering both "hard costs" and "soft costs".
Hard costs include not only the set fabrication and installation costs, but also needs to account for furniture, props and lighting and lighting systems — as well as infrastructure updates that might be needed, such as electrical and data line, HVAC and structural upgrades to accommodate the facility as well as the added demands of a broadcast environment and set.
Soft costs, meanwhile, cover professional services for scenic elements and lighting, AV systems design and integration, acoustic updates and architectural and engineering services (for more information on project costs download our free Webcast Studio Environments Cost Guide).
With all of these areas for consideration, it's easy to see how working with an inexperienced broadcast scenic design firm could result in costly mistakes and necessitate shortcuts that ultimately mean your facility doesn't meet your needs or achieve your goals.
The best way to get started with your next corporate broadcast studio or webcast environment is to work with an experienced designer to create a custom broadcast project needs assessment. Even if you're just in the very early stages of planning a broadcast facility for your organization, enlisting this assistance sooner rather than later can be invaluable since your design team will be part of your team from day one.
A custom broadcast project needs assessment includes a comprehensive review of your project, goals and any existing space and equipment as well as recommendations on next steps for when the project is ready to move forward.
Learn more
As publishers continue to struggle to compete in a new age of crowded and fragmented media channels, many publishers have found a 'hidden vein of gold' for increasing viewer engagement and ad revenue with webcast studios.
Provost Studio, the leading provider of educational resources for webcast studio design and planning, has prepared a free cost guide for those considering a new webcast studio.

The above column is sponsor-generated content from Provost Studio. To learn more about sponsor-generated content, click here.
The latest in design, production and engineering
Subscribe to NewscastStudio for the latest delivered straight to your inbox.