ESPN upgrades college football coverage with industrial inspired studio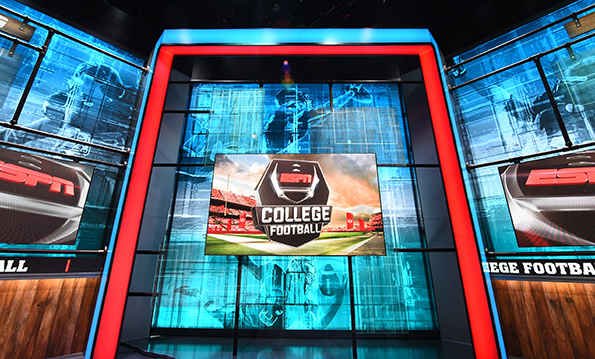 ESPN has upgraded its home for college sports, Studio G, as the network enters a new season of college football and as the exclusive home of the College Football Playoffs.
Located in the Digital Center 1 building of ESPN's Bristol campus, Jack Morton PDG and lead designer Andre Durette worked to create a 360 degree environment for the network that was flexible but unique for college sports. Mystic Scenic Studios fabricated the set with lighting design by FLDA and AV integration by AV Design Services.
The set includes a main desk, interview area and stand-up location, and is about 2,500 square feet in total.
For the design direction, ESPN provided paintings by Ernie Barns and George Bellows, who both captured sports in some of their famous works. Through the paintings, Durette drew inspiration for the set's industrial look and graphical patterns.
"We wanted it to have this lofty industrial look that would complement the paintings," said Durette.
The industrial look is captured through the use of exposed beams, brick, stonework, piping and the on-set furniture.
"Design styles [in set design] go in phases, for a period all the sports sets where glossy and slick," said Durette. "Now, the direction is 'lets get back to what football is about,' more warm and comforting."
"This change allows us to invite the audience back in, to see things they understand about sports."
The set's main anchor area includes a large desk, capable of seating a host and multiple analysts.
Behind the desk is a unique graphic treatment that depicts football scenes inspired by the paintings. These panels, along with the monitors, can be changed to represent other sports, such as college basketball, giving the set added flexibility.
The area is framed by a series of backlit columns that cross the set to become header elements.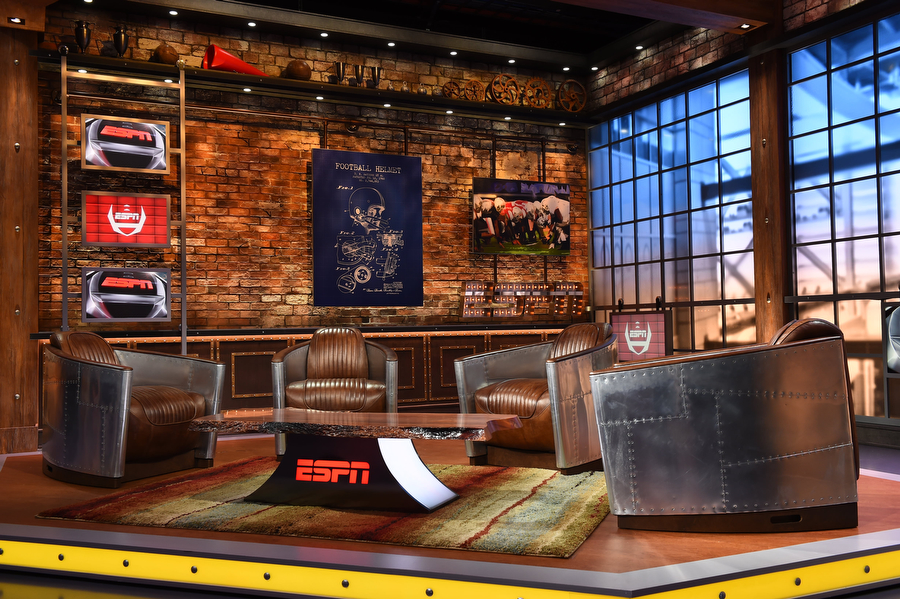 The interview area mixes brick and stonework with exposed beams and piping.
To add depth, a graphic provides a 3D view looking into a stadium scene, which can change colors.
Many of the furniture pieces and props are from Restoration Hardware, such as the Aviator Chairs, which match the industrial loft style.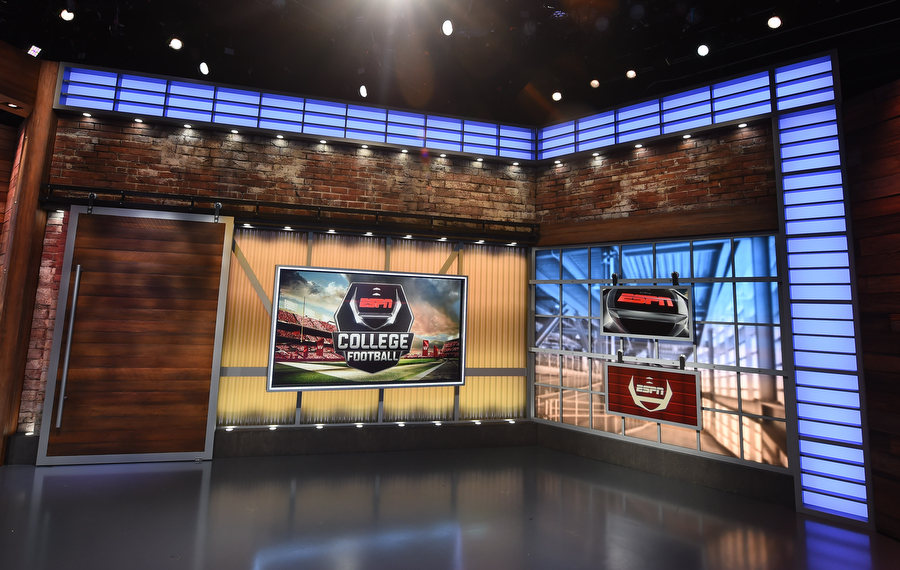 The stand-up area continues the brickwork and adds a touchscreen for analysis of games and plays. Backlit elements and graphic panels allow flexibility between shows and sports.
"With ESPN, it's all about technology and allowing them to change content in the screens, so they can transition from sport to sport," said Durette.
ESPN plans to use Studio G primarily for college football and basketball, but potentially for various wraparound programming as well.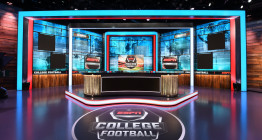 Set Design
ESPN Studio G
View a gallery of this project…