Tribune exploring selling iconic Chicago tower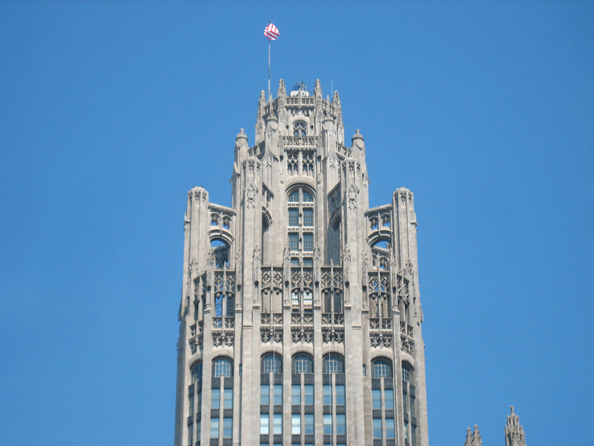 Tribune Media's real estate division has announced it may consider selling the iconic Tribune Tower in downtown Chicago.
The building, which sits on some of the choicest real estate in the country — near one end of the Magnificent Mile — could no doubt bring significant interest and a hefty price tag.
Tribune had previously announced concepts for expanding the property, which despite being zoned for 1.4 million square feet of commercial space, only encompasses 737,000 square feet now.
Shaping Tribune Tower as a "destination" has been a goal within the company and leasing 13,000 square feet on the ground floor to Dylan's Candy Bar in 2014 was a key step in that goal.
Plans announced last year are only conceptual, but call for a mixed-used development of office, residential, retail and hotel space to be created by mixing new construction in a spot currently occupied by a parking lot as well as repurposing and renovating other areas of the historic tower.
The neo-Gothic style Tribune Tower, completed in 1925, was named a historic landmark in 1989, so there would be limitations on what could be done to the existing structure, particularly the exterior.
While it's not clear if Tribune would continue operating from the building, it wouldn't be unique if, assuming the property is sold, the deal includes a long term lease of space, with possible improvements, back to Tribune. A similar strategy was used after Time Warner sold Time Warner Center in New York City but arranged for CNN's New York City and other operations to remain there for several additional years.
The concept plans unveiled last year also appear to call for relocating the Chicago Tribune newsroom, which occupies a portion of the 34-story tower. Other Tribune related tenants include WGN-AM radio.
Tribune Broadcasting, which was spun off as a separate company, operates WGN-TV and cable channel CLTV out of studios in the North Center area of the city, notable as being the only major commercial TV operation in the city that operates outside of the downtown business district.
In addition to Tribune's own operations, CNN's Chicago bureau is also housed in Tribune Tower.
Tribune Tower is unique in that stones and other materials from various historical or culturally significant sites around the world have been incorporated into the walls or display niches. The Taj Mahal, Parthenon, Hagia Sophia, Palace of Westminster, petrified wood from the Redwood National and State Parks, the pyramids, the Alamo, Notre Dame Cathedral, the Great Wall of China, Independence Hall and the Berlin Wall are among the many locations included.