A look inside TNT's new NBA skybox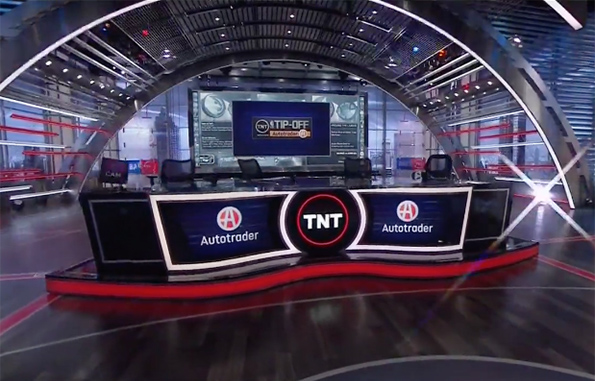 Turner Sports upgraded its home for the "NBA on TNT" and "Inside the NBA" this season, reworking Studio J with a sleek design from Jack Morton PDG.
The studio debuted to much fanfare on October 29, as the new NBA season tipped off.
[field name=iframe]
Lead Designer Andre Durette and Associate Designer Camille Connolly headed up the project for Jack Morton PDG, with fabrication by Jack Morton Exhibits and lighting design by The Lighting Design Group's Niel Galen, with Programmer Dawn Borsella, Gaffer Sean Linehan and LDG Project Manager Mike Kemp.
"They wanted to elevate their set, to go from what they had to something more modern, slick and glossy, yet retain some of that warmth," said Durette.
Working with some existing architectural elements, Durette envisioned a space that is a "skybox in the city," providing a scenic view from the 40th floor of a skyscraper, matching the "NBA on TNT" graphics package.
To achieve this look, the set features a 360 degree skyline wraparound graphic along with many stainless steel frames that become windows into the world. Various backlit color-changing elements float in the arches of the set, which remain as a connection to the previous studio designs, which Jack Morton also completed.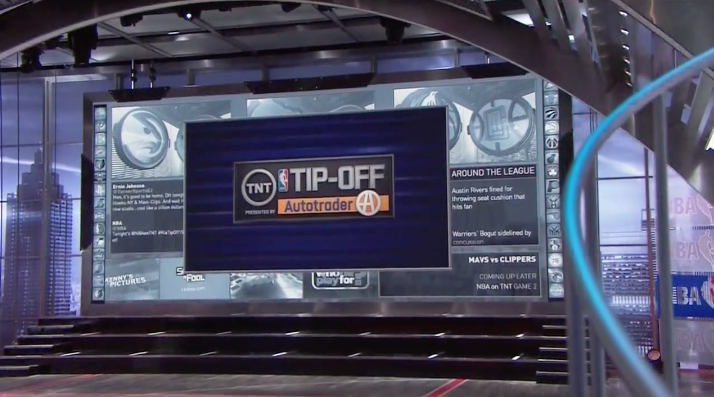 The large anchor desk features a curving front with backlit TNT logo. Two areas provide space for sponsor logos or branding.
The set also includes a large LED screen floating in a silver frame with a series of steps, providing the main background for the desk. Inside the monitor, graphics and sponsor logos are displayed throughout the broadcast.
This area is also used for many of the shows gags, which were considered when designing the new space.
Speaking of gags, the set also includes many special elements for each of the co-hosts. Shaquille O'Neal received a robotic camera, which he can control from the main anchor desk.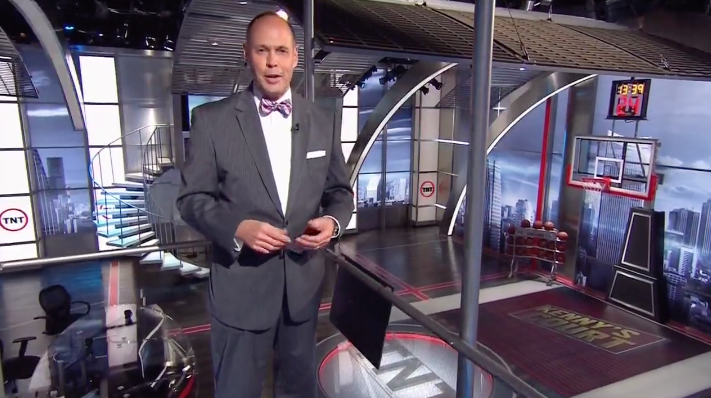 An additional balcony was added along with a unique wood floor, which includes a dimensional TNT logo and 6mm LED video array. The array, located in the demo area, is branded as "Kenny's Court" in honor of Kenny Smith, one of the shows analysts.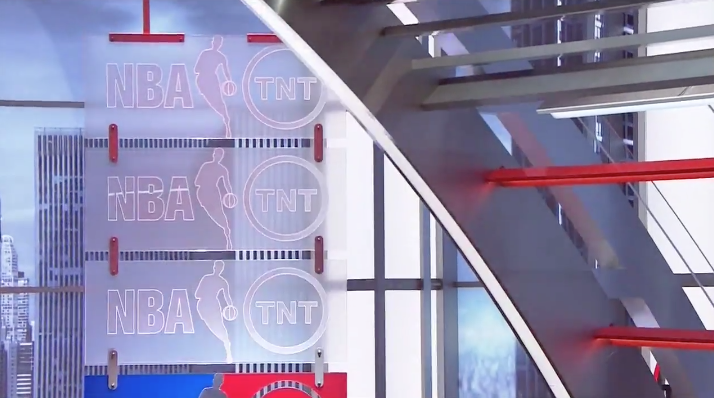 The set includes many moving lights, along with the various color-changing elements, giving the broadcast flexibility.
"There's lots of moving lights in the set," said Durette. "We wanted to have that energy (like the opening of a basketball game)."
The one thing viewers may notice a lack of, TNT branding.
"We really wanted to keep this devoid of a ton of logos," said Durette. "We feel like the brand has gotten to a point where we don't have to hit people over the head with it, people know they're watching the 'NBA on TNT.'"
This project continues a busy year for Jack Morton PDG, which has included redesigns of "The Late Show," "The Daily Show," "The NFL on CBS" and ESPN.