Forecaster jumps in outdoor weather set's pond for good cause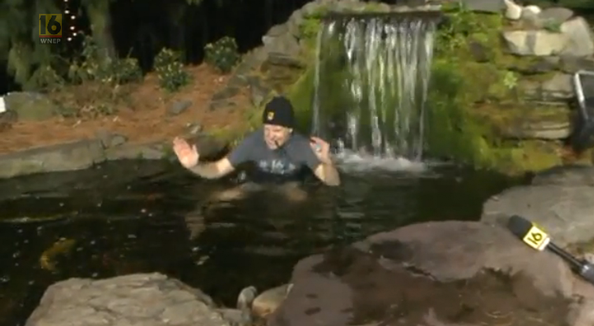 A Pennsylvania forecaster jumped in the pond on the station's outdoor weather set — all to settle a bet with viewers to help a local boy.
Joe Snedeker, the morning meteorologist at Tribune Media owned WNEP-TV in Scranton/Wilkes-Barre, Pa., took a "polar bear plunge" in the small pond located in the landscaping of the "Backyard," the station's out weather studio.
Snedeker was making good on a deal with viewers that, if money was raised to help a local boy. Joe Jones, a teenager whose dad has been a firefighter for 35 years, had spinal surgery and now needs a $15,000 bed to help him during his recovery.
The goal was met after an anonymous viewer sent a check for $9,000.
[field name=iframe]