Vizrt and Stype drive virtual graphics for NASCAR's Daytona 500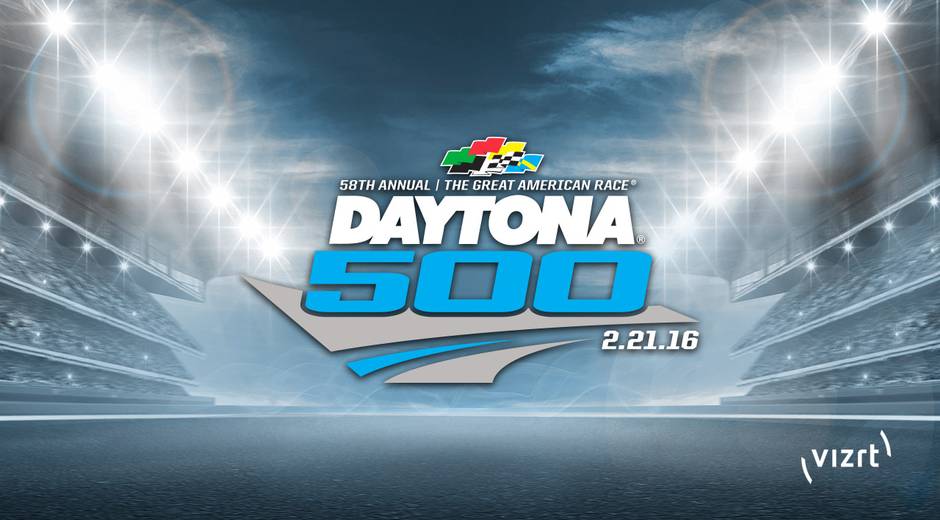 Subscribe to NewscastStudio's newsletter for the latest in broadcast design and engineering delivered to your inbox.
Fox Sports will add augmented reality graphics from Vizrt and Stype for its annual NASCAR coverage, beginning this weekend with the Daytona 500.
These new features will be in addition to the interactive and data-driven on-air graphics Fox already utilizes.
"We've always placed high importance on creating augmented reality graphics that are photorealistic," said Zac Fields, Senior Vice President Graphic Technology and Integration at Fox Sports. "The design must include the proper amount of shading and lighting built into our 3D models and scenes. Vizrt's technology allows us to incorporate these graphics into the live broadcast in a highly efficient way that complements our workflow at the track."
The AR graphics will be used to virtually display race summaries, driver information, sponsor logos and other race-related information along the sides of the world famous Daytona International Speedway track. They will be powered by a specialized camera tracking system supplied by Stype in tandem with real-time 3D graphics technology from Vizrt.
Fox Sports will also utilize four Viz Engine real-time compositing systems and three Viz Trio character generators. One of the graphics systems will drive a touchscreen to provide expanded views of the cars and their systems in motion. They'll also help create and display familiar fullscreen graphics, lower thirds and race stats featuring telemetry data gathered from inside the cars. Everything be controlled in a series of on-site mobile production trucks provided by Game Creek Video.
Daniel Krušelj, Chief Technology Officer at Stype, said the race track has a new crash barrier that is further from the track than previous years. This means a longer jib arm (30 ft.) is needed to reach the track and will be located at turns three and four.
"Outside broadcasts like the Daytona 500 always allow us the opportunity to be more creative with AR images, since there's always more physical space to place the graphics than in a studio," said Krušelj. "Natural colors of the sky also provide a nice backdrop for the massive 3D graphics we'll be generating with the Vizrt 3D technology."
"It's projects like the Daytona 500 that allow our live graphics technology to really shine and we are excited to be working with Stype to bring Fox Sports' vision to reality," said Petter Ole Jakobsen, CTO at Vizrt. "Today's audiences always want to see the latest in image technology and augmented reality is taking live graphics to another level, for the benefit of everyone involved."