Social power rankings let mid-market stations shine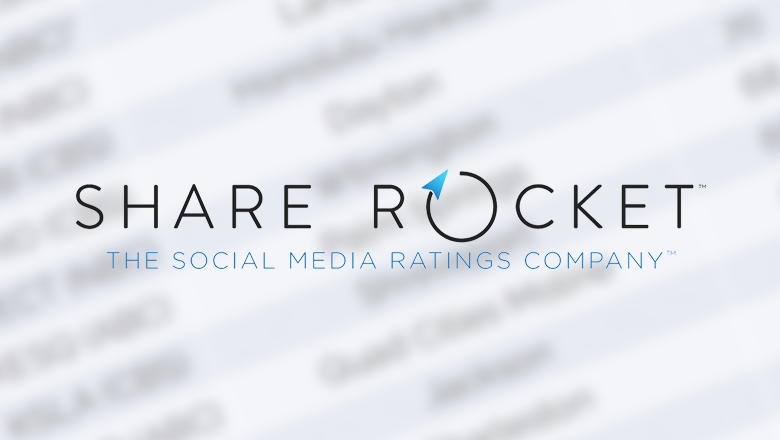 Subscribe to NewscastStudio for the latest news, project case studies and product announcements in broadcast technology, creative design and engineering delivered to your inbox.
Share Rocket's social media data now provides "power rankings" that reflect the impact that stations, both large and small, have on popular social media platforms.
Share Rocket's solution covers Facebook, Twitter and Instagram profiles as the "foundational" platforms.
"We (also) measure the entire social footprint of a station including the main brand, sub-brands, such as sports and weather and the individual on-air talent," explained Chris Kraft, the company's founder and CEO.
Typically, the larger the market, the more competitive that market is in terms of social share, according to a Share Rocket press release.
Because of this, Share Rocket began noticing some interesting competitive dynamics playing out in the mid-market and small-market arenas, which lead to the revised power rankings approach.
The new data ranks the stations in 130 out of the 210 U.S. markets to determine stations that maintain the largest leads over their next closest competitor.
It's important to note the data doesn't factor in size or "competitiveness," so these rankings aren't necessarily meant to rank the best station in the market.
Share Rocket's social ratings and performance measurement platform are used by broadcast ownership groups and their stations to effectively benchmark and rank their stations' performance against the competitors.
Stations looking to boost their social share rankings need to focus on consistent posting and engaging in conversations with their audiences, says Craft.
Though, not surprisingly, the exact formula isn't made public, Craft says the approach his company uses is still pretty straightforward.
The key way to grow social share, according to Craft, is to focus on engagement and posting.
"The most successful on-air personalities will re-engage with the same post multiple times to keep the conversation going. The least successful just post and never engage," he explained.
In the company's most recent social media share metrics, for August 2016, WNEP-TV in Scranton/Wilkes-Barre, Pa., ranked as the most dominant station in America.
WNEP-TV also has occupies seven of the top eight social assets in the market, with popular morning meteorologist Joe Snedeker as the market's top individual.
WNEP-TV is no stranger to being a bit of anomaly in the TV news business. Despite being in a mid-sized market, it has ranked as the highest rated newscast multiple times over the years.
Its strong ratings and popular personalities such as Snedeker likely help fuel its popularity on social media as well.
Overall, the Tribune Broadcasting owned station commands a 91 percent social media share — with the two other stations in the market, Nexstar owned WBRE-TV (NBC) and Mission Broadcasting's WYOU-TV (CBS) only rating at a 9 percent share.
It's worth noting that WBRE-TV and WYOU-TV are both managed by Nexstar and share a building and news team. WBRE-TV also produces a late newscast for the market's Fox affiliate, WOLF-TV.
WYOU-TV even shut down its news department altogether in 2009, but would eventually return to airing newscasts, albeit ones produced by WBRE-TV under the non-station specific "Eyewitness News" name.
Rounding out the top 20 for August (21 stations are included due to a tie) are: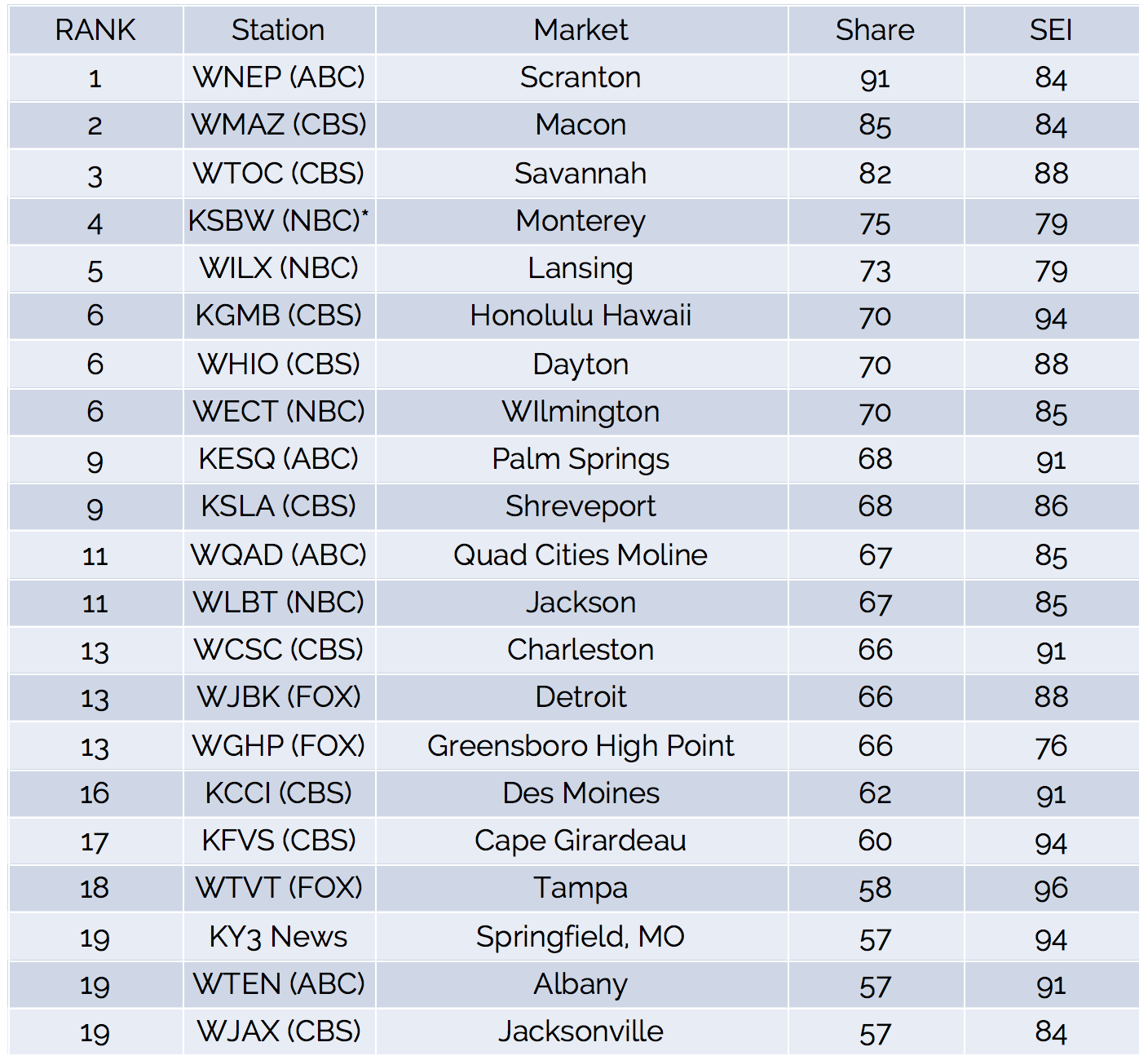 KSBW-TV (NBC) in Monterey, Calif, has only one other competitor, where most stations have two competitors in their market.
Taking that into consideration, which indicates a more competitive market, WILX-TV (NBC) in Lansing would be the top in that category, followed by WHIO-TV (CBS) in Dayton.
Of the top 20 most dominant stations, the station in the largest market (showing dominance in a big market) is WTVT-TV (Fox) in Tampa, which is the 11th largest market, followed by WJBK-TV (Fox) in Detroit, which is the 13th largest.
Subscribe to NewscastStudio for the latest news, project case studies and product announcements in broadcast technology, creative design and engineering delivered to your inbox.