The Weather Company updates Max Engage with power of Watson, location targeting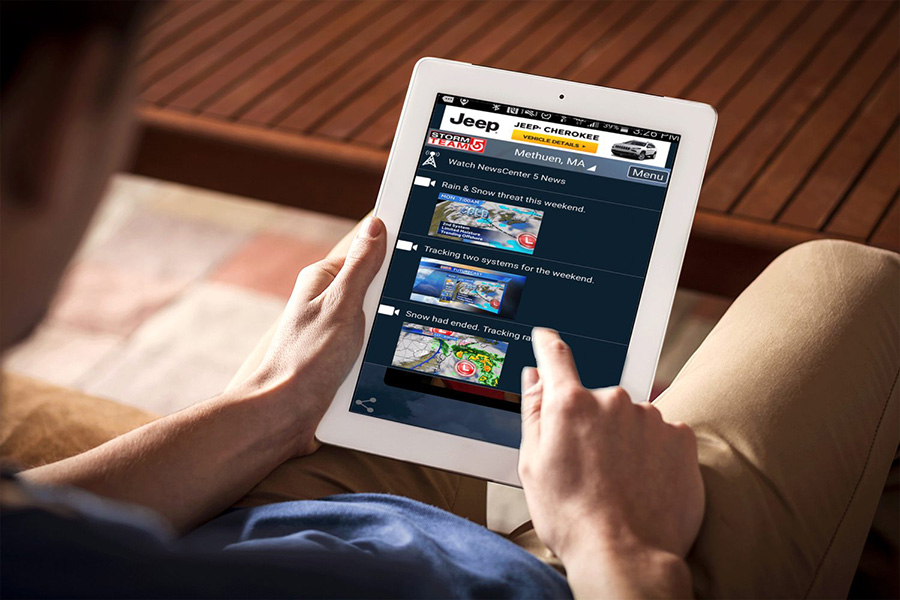 Subscribe to NewscastStudio's newsletter for the latest in broadcast design, technology and engineering delivered to your inbox.
IBM's The Weather Company is combining the power of Watson with the latest in social engagement in its latest update to Max Engage, aimed at helping stations reach mobile audiences on-the-go.
The tool, which was updated during the 2017 NAB Show in Las Vegas, uses content curation and geo-fencing (or location targeting) to help create engagement, such as through push weather alerts.
"The new Max Engage updates are really all about making sure the workflow is really easy for our customers, whether they want to go and produce a hit themselves or they're actually going out and presenting information," said Bill Dow, executive, media solutions at The Weather Company.
During a hands-on demo, we tested the location targeting of the system, which allowed us to select a region to receive an alert via a mobile app.
Each alert could then be tailored based on the type of weather or traffic event, such as a temperature change, weather condition, highway slowdown or accident, triggering an automatic alert or pre-produced video hit to appear as a banner in app.
In future updates, Max Engage will add deeper support for Facebook Live streaming and unstructured data mining, such as querying social feeds for keywords for content to share.
"A lot of stations have really embraced social. You notice more and more are now live-streaming to Facebook, and I think that's great. That just helps with the engagement," added Dow. "I think that stations understand that it's important to grow their audience on social and to make them aware of their other platforms, their other opportunities where they can get additional information, but also the other platforms where they can actually monetize the information."
Features Updated in Max Engage
Content Curation: Max Engage uses relevant weather information it discovers to produce fun, animated, silent videos with as much or as little human intervention desired. The feature will automatically serve end-users with unique, updated videos multiple times a day.
Geo-Fencing: The weather video forecasts will be pushed to consumers through mobile, social, and web at the same time. For mobile, through automated geo-fencing technology, the content of each video will be truly individualized based on a user's location down to street level.
Enhanced Storytelling: Max Engage with Watson increases audience engagement with the content itself by using the Watson Natural Language Understanding API to service relevant content, such as weather history and current conditions, to enhance storytelling. The Weather Company will be teaching Watson to answer personal questions via voice or text that will empower consumers to make better decisions throughout their day, such as "Will I need a jacket today?" or "When is the best time to start gardening?"
Social Streaming: Max Engage with Watson will allow broadcasters to stream to social platforms directly from their familiar Max interface. This seamless integration will allow the broadcaster to see the audience comments in real time while streaming so they can see the most frequently asked questions for them to answer, keeping the audience engaged and the conversation relevant.
[nab-2016]
The latest in design, production and engineering
Subscribe to NewscastStudio for the latest delivered straight to your inbox.