Isobars, fronts and Godzilla: Inside the creative mind of Joe Snedeker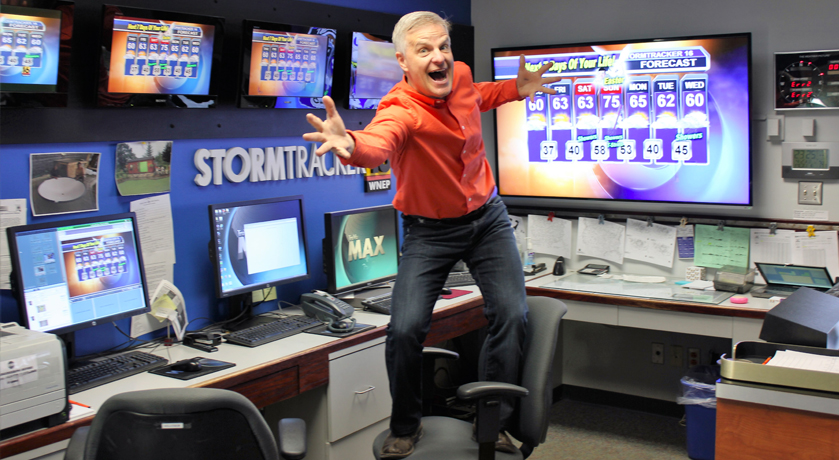 Subscribe to NewscastStudio's newsletter for the latest in broadcast design, technology and engineering delivered to your inbox.
Meteorologist Joe Snedeker, who works at WNEP in Scranton/Wilkes-Barre, Pennsylvania, has made a name for himself offering some of the TV news industry's most creative — if not wacky — forecasts.
Snedeker has become known in the market and the industry at large for his weather presentations that contain a unique blend of scientific facts, pop culture references, random objects flying around weather maps and even characters.
"I seem to be the only one I know in the business who consistently integrates JPEG objects … into the forecast graphics," says Snedeker.

Those objects run the gamut of everything from simple icons to furniture, random objects (such as the roll of film shown above) and even the heads of celebrities or station personalities.
Over the years, Snedeker has also developed some go-to "buddies" that make frequent guest appearances in his weather graphics — including a stick figure named Eugene and his current favorite, Godzilla.
"Godzilla works so good in all things weather, from jet-stream undulations to warm, humid air masses! Godzilla rules!" says Snedeker.

Despite his fun-loving and goofy on-air personality, Snedeker ultimately considers himself an educator.
In addition to teaching television viewers about weather, Snedeker has also brought his passion for science and weather to high school and college classrooms.
And, whether in front of a chalkboard or green screen, Snedeker's mantra remains the same.
"Science needs to be made fun and entertaining. When you're having fun, you're learning without even knowing. On-air meteorology is pure science — it needs not only to be presented, but it needs to be made fun, informative … and entertaining."
Since joining WNEP full time in 1999, Snedeker has funneled his creativity and scientific knowledge into building forecasts that keep the viewers of the station's top-rated morning newscasts entertained and informed of severe weather and the science behind it.
That often involves thinking outside the box and spotting creative shapes hidden in weather maps. Then, as the weather patterns crawl across the country, he uses animation and objects to help viewers visualize how the shifts will affect their lives.
To build his forecasts, Snedeker uses Max from The Weather Company, an upgrade that Snedeker saw as a big improvement in giving him the tools for being able to build his forecasts faster.
Snedeker stretches the limits of the software to blend everything from video clips to the aforementioned JPEG objects to help build his weather stories.
"A weather forecast must be a story: Where, when, how, why. It's a plot, an arc and it must flow and have relevance," said Snedeker.
Over the years, Snedeker has contributed content to other newscasts, ranging from "Brown Bag" and "Wham Cam" spots that typically combine scientific education delivered in his trademark style.
The latest in design, production and engineering
Subscribe to NewscastStudio for the latest delivered straight to your inbox.