ESPN's 'College GameDay' rolls into Times Square with team effort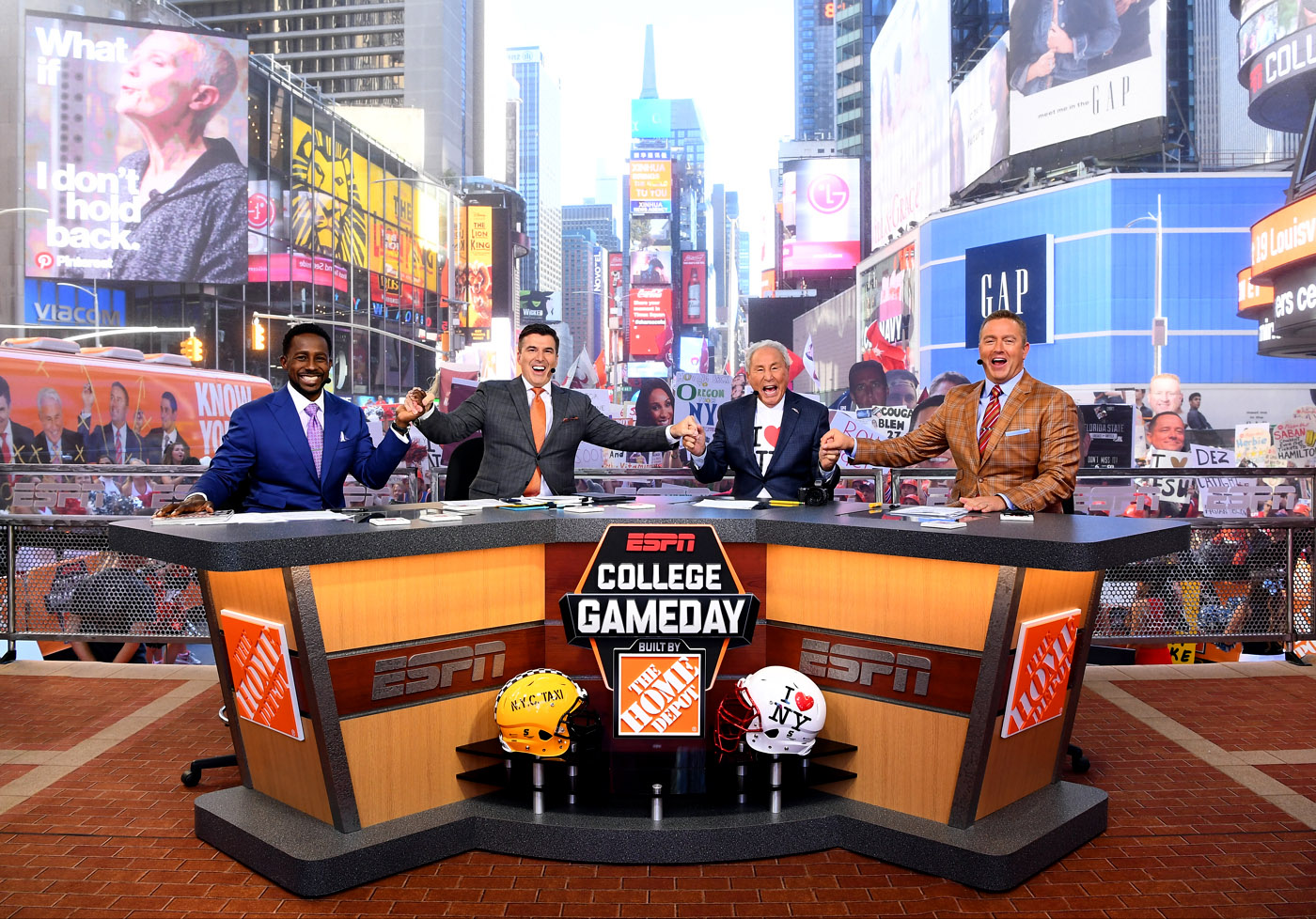 Subscribe to NewscastStudio for the latest news, project case studies and product announcements in broadcast technology, creative design and engineering delivered to your inbox.
ESPN's traveling pre-tailgate, "College GameDay," visited New York City for the first time in its 25 year history this past weekend, originating from the "Crossroads of the World" — i.e., Times Square.
"We've been thinking about doing this for the past five or six years," said Bob Braunlich, VP, Remote Production Operations, ESPN. "You gotta have the stars align properly to do this, where it fits into the schedule."
"GameDay" located its production on Military Island, in the center of Times Square, near 43rd and 44th Streets. The location gave the broadcast a north-facing backdrop with plenty of the marquee view.
"The first thing someone will say is 'Wow, they're in Times Square.' There's all this neon, these signs, the people, etc," said Braunlich. "They'll also notice it's not like we're in Tennessee and there are all orange jerseys. We're hoping it's like this potpourri of colors and every school is represented."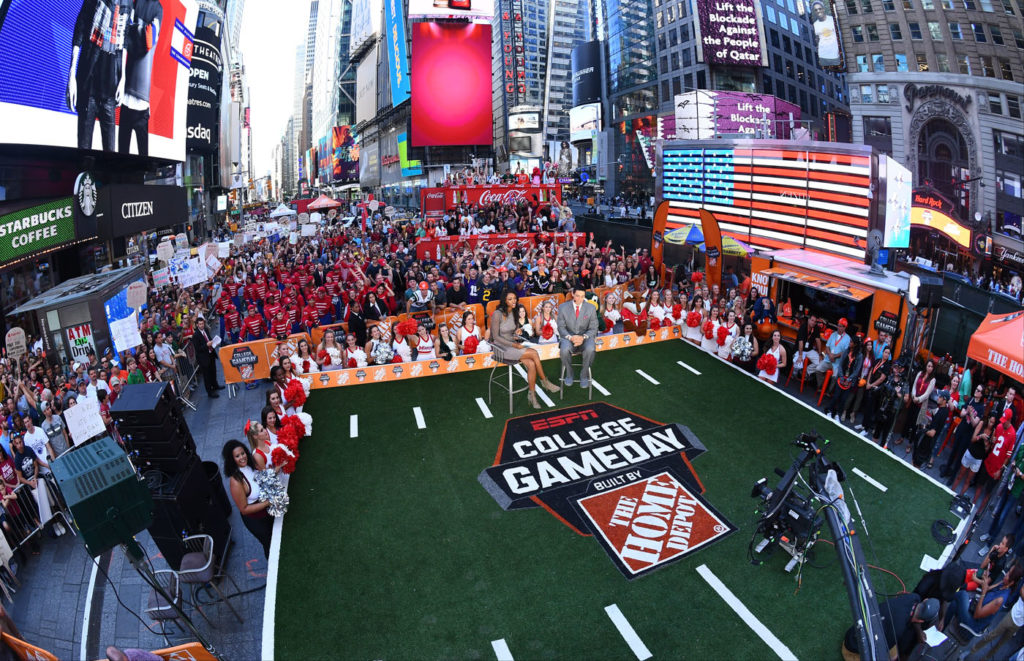 Unlike past broadcasts, where "GameDay" transmits from a particular school's quad or football stadium, this past weekend's broadcast was at a truly neutral site with no affiliated game or sports team. This also meant no built-in fan base to fill the fan pit directly behind host's Rece Davis, Lee Corso, Kirk Herbstreit and Desmond Howard.
Braunlich notes this was one of the variables surrounding the telecast, along with the undertaking of delivering a live sports program from one of America's busiest streets.
"When you go to a college or university, we make a phone call and say we're interested… Most of the time you're dealing with one or two people at a school and they become the lead people," said Braunlich. "Here in the city, it's a different situation, as there's not a lead person for the city, so you're dealing with the fire department, the police department, the Film Commission, Times Square Alliance, etc."
To help cut through the tape and permitting process, ESPN enlisted iDEKO Productions to obtain the required permits and provide overall production support and infrastructure, such as erecting the traveling stage and providing on-site power.
The team at ESPN also relied on corporate sibling ABC News and "Good Morning America," borrowing the morning show's control rooms at Times Square Studios.
"Ordinarily we'd pull a truck in and build the whole compound," said Braunlich.
Military Island, however, did not provide the same space as a normal "GameDay" setup, with only about a third of the real estate. As well, the normal area a mobile production truck would park, on the adjacent city streets, was restricted due to construction.
"The best option was to use the Times Square Studios facility, which is part of the Disney ABC family. The challenge there is they do "Good Morning America" every day, [so] their studio and control room is designed to do a morning show, not sports television," notes Braunlich. "This has been a very collaborative effort across the board."
Additional gear for the broadcast was brought in and placed in Control Room B, which is typically unused by "GMA," including two EVS replay services and a Vizrt graphics system and virtual graphics system.
Connections for cameras and audio, however, were not a problem, as parts of Times Square are wired with hatch panels to allow for outdoor segments on "GMA." All told, the broadcast featured 18 cameras, including some provided by ABC News and WABC.
"We had this on the books for a long time, and it's been a fun challenge," said Braunlich. "We always try new things at ESPN… If you don't try new things you won't know."
Subscribe to NewscastStudio for the latest news, project case studies and product announcements in broadcast technology, creative design and engineering delivered to your inbox.