Tencent's NBA studio blends basketball references with tech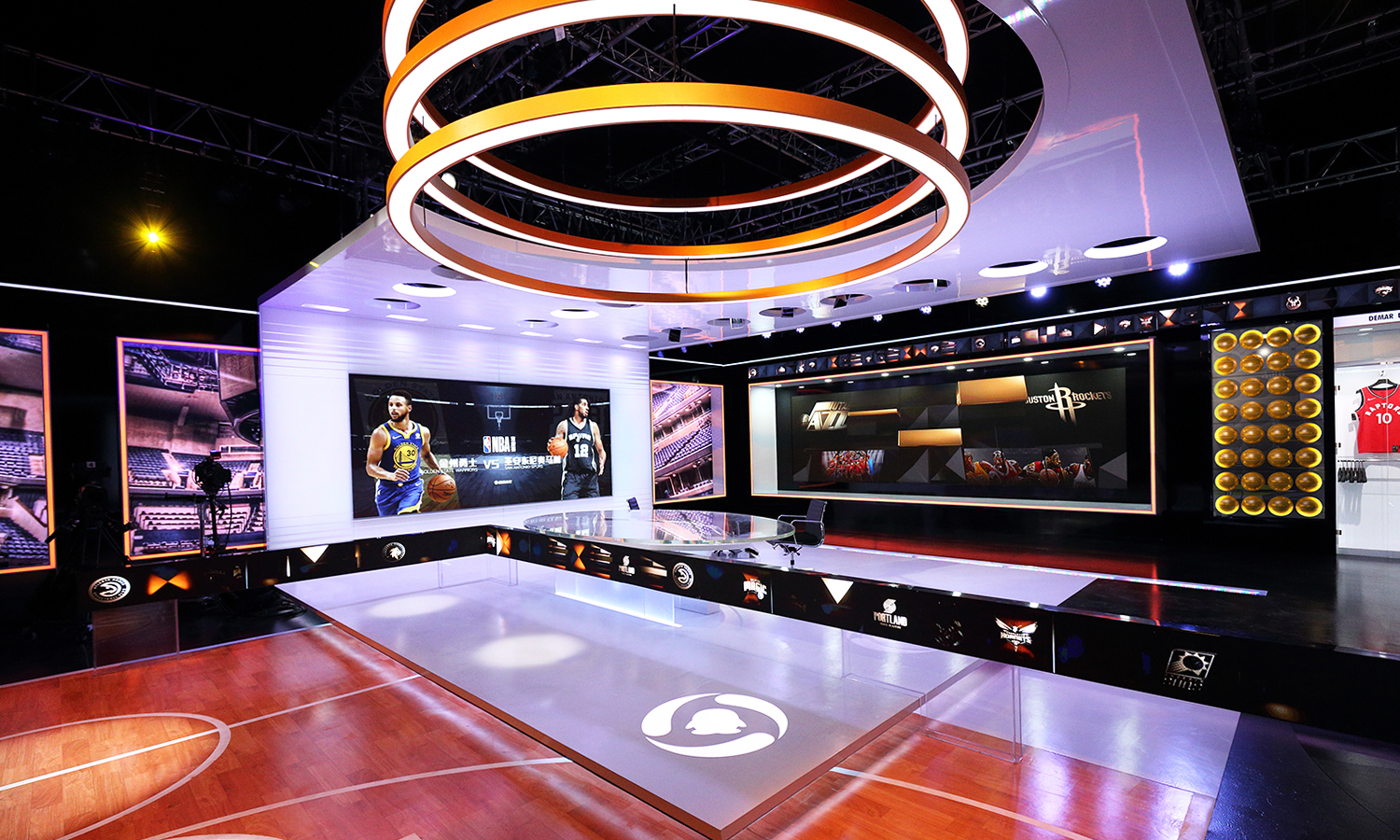 Subscribe to NewscastStudio's newsletter for the latest in broadcast design, technology and engineering delivered to your inbox.
With high placed nods to the sport's omnipresent hoop, the studio environment for Tencent's NBA coverage combines high tech with references to basketball arenas in a modern and flexible space.
Tencent (腾讯控股有限公司), a Chinese telecom and technology conglomerate that owns popular services such as WeChat and QQ.com, has had the Chinese broadcast rights to the NBA for many seasons and is the NBA's largest digital partner.
For its new Tencent Sports (腾讯体育) studio, Tencent turned to Clickspring Design to create an environment for pre- and post-show coverage, halftime reports, Web streams and other productions.
The studio space is crowned, quite literally, by two stacks of three internally lit hoops, designed to conjure references to the iconic orange rims on either end of basketball courts.
These hoops, however, are imagined in a more sleek rendition — with the bright orange shade adjusted to a more sophisticated gold-bronze coloring. One of these sculptural ceiling elements features the trio of rings stacked one above the other, while, in contrast, the other hoops are angled in a way that suggests them bouncing off each other.
"The Tencent NBA studio directly aims to give the early pioneer of adopting live streaming content a formidable space to contextualize this enterprise," explained Clickspring designer Erik Ulfers.
Strong lines and right angles complement the circular elements and play homage to the rectangular shapes found across basketball courts.
The studio's main anchor area is defined by a gloss white surface that can be washed with color changing LED, creating a flowing and dynamic surface.
This area also features two of the studio's main LED video walls. These expansive displays allow the anchors to complement the live streamed content with a combination of analyses, discussions, dynamic graphics and augmented reality.
"This allows for an enriched experience rather than forcing a traditional cut-to-video with anchor voice-over," added Ulfers.
Solutions from Vizrt including Viz Virtual Studio for the virtual graphics and Viz Multiplay for the video wall control power the set's technology. Tencent also uses Viz Trio (UHD) and Viz Artist for all of the show graphics and playout.
"Vizrt is proud that Tencent chose to use many of our products to take it's world class studio to the next level. The popularity of the content produced is a testimonial of the high value it delivers," said Bernt Johannessen, regional manager Greater China for Vizrt.
Diagonally across from home base, five tracking automated panels can be used individually or come together to form a single seamless LED display. This area serves as the social media zone as well as a location for larger-format, interactive augmented reality implementations.
Nearby is a custom basketball court inlay that can host both real and virtual free-throw contests.
The studio also boasts an informal interview area backed by stylized open lockers with jerseys, shoes and other locker room symbols. This area is connected to the main anchor area by a slim LED band that can display team logos, show branding or news items.
The design of the studio was carefully crafted to blend with Tencent's NBA graphics package — namely by allowing much of the floor and ceiling to recede into a dramatic black, while gold acts as a rich accent tone.
Color-shifting LED washes, lightboxes and video walls also allow the studio space to do double duty for the network's European football coverage once a week, which is also complemented by augmented reality.
"This whole experience has been enlightening. I think Tencent represents the new world," said Ulfers.
The latest in design, production and engineering
Subscribe to NewscastStudio for the latest delivered straight to your inbox.