'Morning Joe' guest blamed 'technician' for being late — then everything fell apart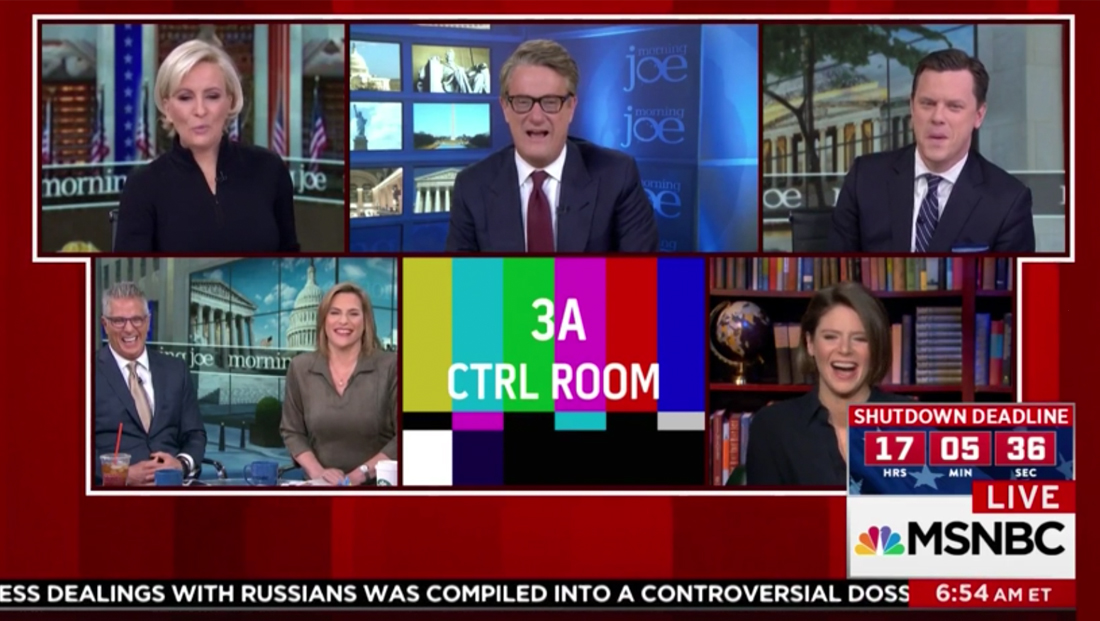 A guest on "Morning Joe" find out the hard way what happens when you blame the TV news crew on live TV.
Sam Stein, the political editor at The Daily Beast, was appearing on MSNBC's "Morning Joe" Friday, Jan. 19, 2018, but arrived to the discussion on the then potential government shutdown about 10 minutes into the show.
After being roped into the discussion, Stein apologized for being "late to school" and blamed the "technician" for his tardiness.
That instantly set off the entire panel.
Stein tried to justify his faux pas by saying he was taking fellow panel member Donny Deutsch's "anatomical advice" about "growing a pair" as the reason for his daring statement.
The rest of the panel continued to deride Stein, including saying he violated the "Morning Joe constitution."
The control room then started playing games — first muting Stein's mic and then making his image disappear from the five box briefly. The show then cut to a live view of the control room where executive producer Alex Korson showed off the hard working crew (for the record, NewscastStudio believes control room crews are the hardest working folks in TV).
Later, after a break, the audio booth began manipulating with Stein's audio, making him sound like a squeaky chipmunk.
At this point, Stein gave up and was seen taking off his mic and IFB and literally getting up to leave the insert studio — before the control room cut him off with color bars.
Stein also was roped into buying the crew a $50 gift card — and, at least according to what he said, emailed it to Korson during the commercial break.