The internet is having a field day with this Florida forecaster's 'dressing the kids' advice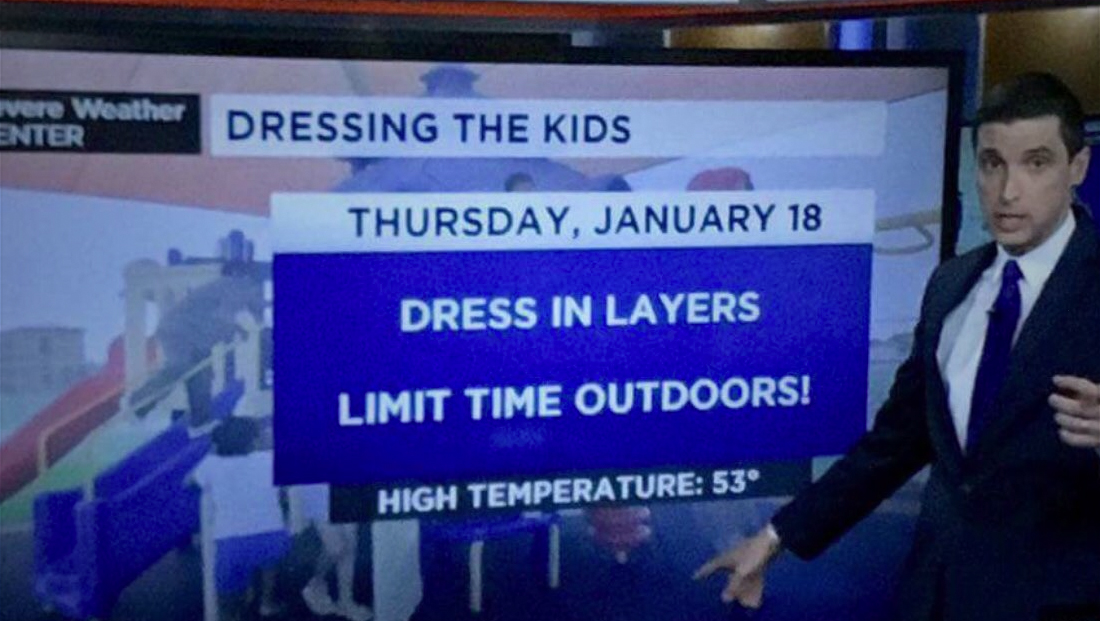 An image of an Orlando, Florida forecaster standing next to a graphic advising parents to "dress in layers" and "limit time outdoors!" next to a predicted high of 58 is making the rounds on the Internet.
The image, which features WFTV morning meteorologist Brian Shields delivering "Dressing the kids" tips during a newscast, appears to be a year old, given the reference to "Thursday" Jan. 18 (Jan. 18 was a Friday in 2019).
However, the image is making the rounds again on social media — and with much of the country blanketed in sub-zero temperatures, the image's irony is still very relevant.
It's worth noting that the temperature bug in the image notes the "current" temperature as being 28 degrees, which, given the corresponding high of 53 the graphic reports, could be a good reason to take some of the advice shown on screen.
Midwesterners in negative 15 degree degree with wind chill: "Wouldn't be so bad out if it wasn't for the wind.."

Meanwhile in Florida with a high of only 53 and it's the end of the world pic.twitter.com/nC1KDrGB0k

— Midwest vs Everybody (@midwestern_ope) January 22, 2019