Album Review: 'Adrenaline Junkies' from BBC Production Music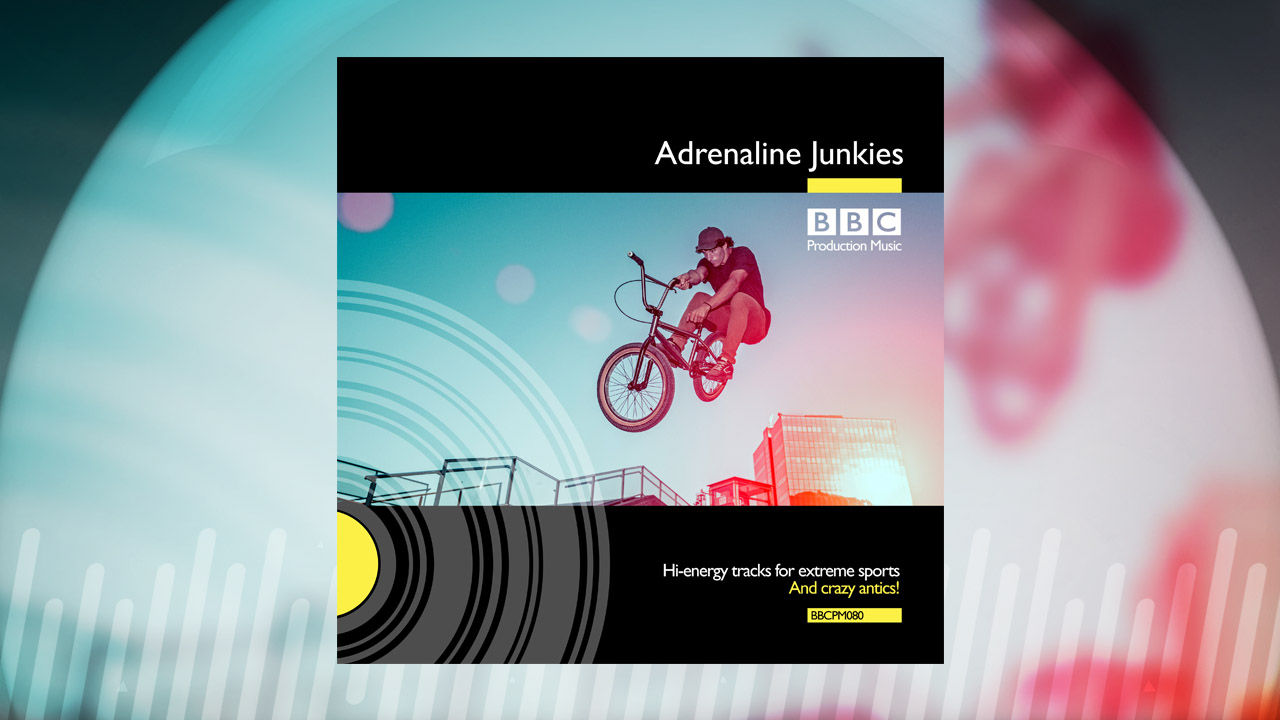 "Adrenaline Junkies," the aptly named instrumental album by composers Finlay Green and David Roberts, blends 80's rock and a modern EDM feel to create music that reflects everything sports.
From tracks boasting an unabashed lighthearted character to deadly serious songs exploring high-stakes drama, "Adrenaline Junkies" is perfect for sportscast highlights, in-stadium promo spots and everything in between.
"Adrenaline Junkies'" energetic pop punk-inspired opener "Let's Go" quickly explodes into a synth-driven euphoria designed to amp up athletes before a game. On "Fired Up," a mid-tempo dance-driven track deft at illuminating athletic prowess and grace, listeners stand in awe in the presence of their idols. Hair metal drama is on full display on "High Octane," a song featuring virtuosic guitar designed to melt faces and highlight the fun of sports.
And on "The Best of Days," the album takes a markedly triumphant turn with a modern rock feel awash in distant cathedral bells and subtle sound effects. Straightforward, unpretentious and always fun, "Adrenaline Junkies" was born and bred to highlight the elation and drama of sports.
This dynamic album is from BBC Production Music which is available from FirstCom Music in the United States and Universal Production Music in Europe.
Audition the Album
[zoomsounds_player source="80850″ type="audio" config="podcast" autoplay="off" loop="off" open_in_ultibox="off" enable_likes="off" enable_views="off" enable_download_button="off"]
Album Tracks
Let's Go! – 2:13*
Speed Punks –1:58
Base Jump – 2:05
Fired Up – 2:04*
Cranked – 2:01
One Giant Leap – 2:23
Raw Turbo – 2:07
Honing Skills – 2:11
High Octane – 2:08*
Overcoming Your Fears – 1:53
Ultimate Road Trip – 1:57
People Are Awesome – 2:18
Muscle Cars – 2:01
In The Flow – 2:00
Crossing State Lines – 2:07
The Best of Days – 2:02*
Street Cruiser – 2:10
Superskills – 1:52
Big Strider – 2:08
Adrenalin Build – 2:49
Don't Hesitate – 1:59
* Featured in audio compilation above.
To listen to the full album, visit the FirstCom Music website. In Europe, the album can be found at Universal Production Music.