Defense department renovates briefing room — even though it barely gets used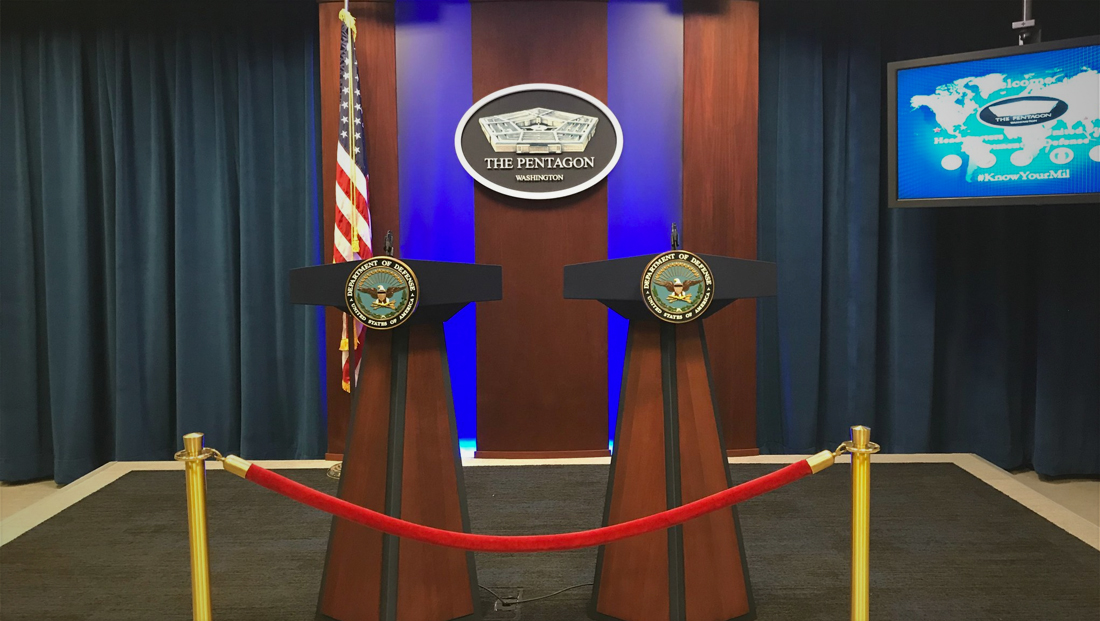 The U.S. Department of Defense unveiled a redesigned press briefing room, including an updated background and lecterns — despite the fact the room has barely been used since August 2018.
CNN's Pentagon correspondent Barbara Starr tweeted a photo of the new setup July 1, 2019.
A first look at new Pentagon briefing room designed for better TV tho cameras have been dark for 13 months for press briefings by a spox taking questions and providing answers. The rope will come down for briefings-now its to keep constant visitors from touching the new paint. pic.twitter.com/WsuGPBd9rO

— Barbara Starr (@barbarastarrcnn) July 1, 2019
Previously, the briefing room featured a blue curtain with oval sign featuring an image of the building and the words "The Pentagon: Washington" under it.
It's worth noting that the Pentagon is technically in Arlington County, Virginia, but does have a Washington, D.C. mailing address.
The redesigned look, meanwhile, features a darker blue curtain with wood and backlit panels in the center — similar in some ways to the design used at the White House.
New, slimmer lecterns have been added while the ceiling mounted video panel camera right remains in the same spot.
While the photo Starr snapped shows metal stanchion with a red rope, she notes that it will be removed when the room is formally used and is mainly there to project the newly finished surfaces.
All that said, it's been almost a year since the Pentagon briefing room was used for an official on camera briefing — the last one was when now former Defense Secretary Jim Mattis last held a briefing in the room Aug. 28, 2018.
Prior to that, former head spokesperson for the department Dana White last used the room in May 2018.
However, the room, prior to being renovated, has been twice for press events with two celebrities — Gene Simmons and Gerard Butler.
Simmons was in town to meet with Pentagon and White House officials to raise awareness of military issues, while Butler was promoting a film that featured heavy cooperation with the Pentagon.
There's no immediate word on the cost of the renovation or how it was funded.
NewscastStudio attempted to contact the Pentagon's published phone number for media inquiries, but a recorded message simply said "The mailbox you have reached cannot accept messages" before cutting the connection.
The latest in design, production and engineering
Subscribe to NewscastStudio for the latest delivered straight to your inbox.