A look at Fox Business' updated home in Studio G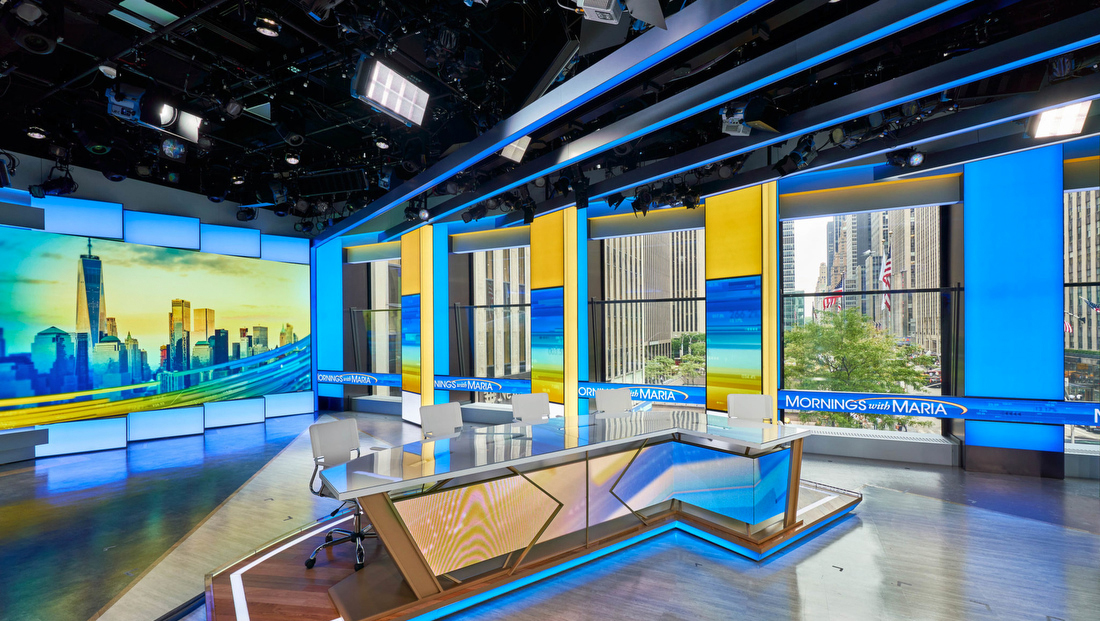 Fox Business unveiled a new look for Studio G on Wednesday, July 24, 2019, that includes sweeping views of Manhattan, plenty of video panels and an angled motif.
The studio, which is perched directly above Studio F in New York City, debuted with Fox Business' "Mornings with Maria," hosted by Maria Bartiromo.
Designed by Jack Morton Worldwide, the set takes advantage of the studio's bird's eye view of downtown Manhattan. Similar to Studio F downstairs, which is also from the team at JMW, Studio G's scenery incorporates the building's vertical structural supports as part of the design.
In Studio G, the columns are clad with color-changing backlit panels while an additional, movable panel featuring internally lit and a vertical video technology.
These panels are designed to be placed at an angle in front of the columns and video ribbon — and can also be removed entirely so the backlit column is visible.
A video ribbon, which echos the one found on the front of Studio F's balcony and Studio J's movable "credenzas" runs in front of the windows.
The space also includes a metallic curved wall with color-changing accents that's fronted with a curved LED video wall — a similar but smaller version of the oversized video wall found downstairs.
An additional seamless LED video panel installation between this part of the set and wall of windows features eight internally let segments placed at angles above and below the video wall.
Studio G includes an L-shaped anchor desk fronted with wraparound LED panels and angular structural elements.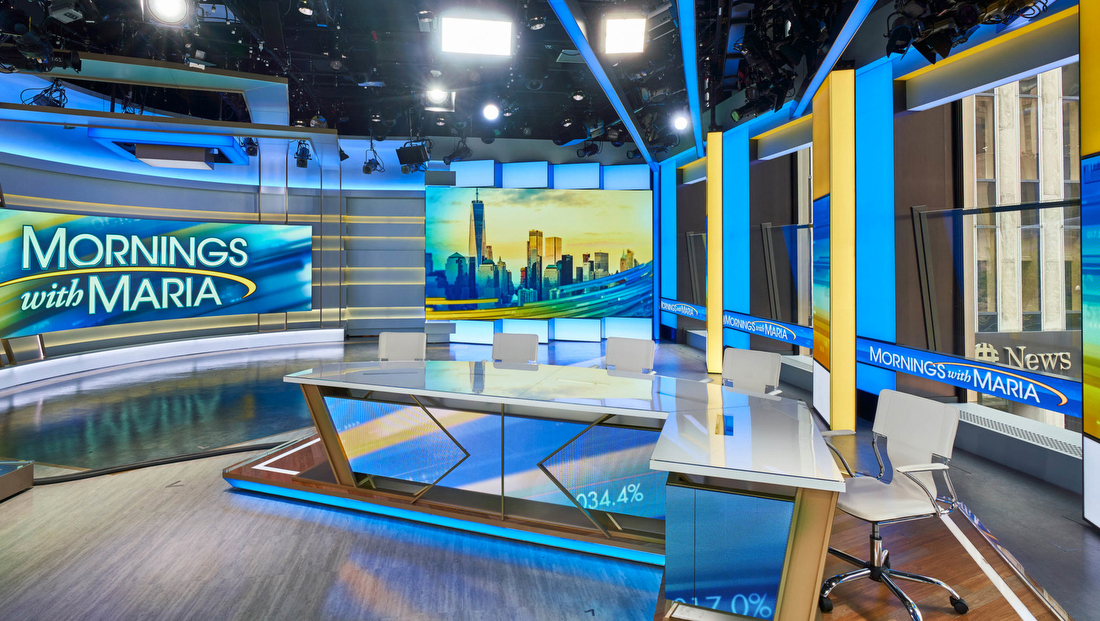 The desk's default off-axis placement within the studio aligns it with many of the angled straight lines found in the design — including the pivoted video columns and header bands.
The short end of the "L" is typically where the show host sits — with panel members and guests filling out the longer end.
Meanwhile, one of the wild video panels that normally cover the columns can be repositioned behind this host to serve as a branded backdrop along with the window view.
A corner of the studio is set up to serve primarily as an interview area complete with warmer wood glad columns and video ribbons running at knee wall height and atop the windows.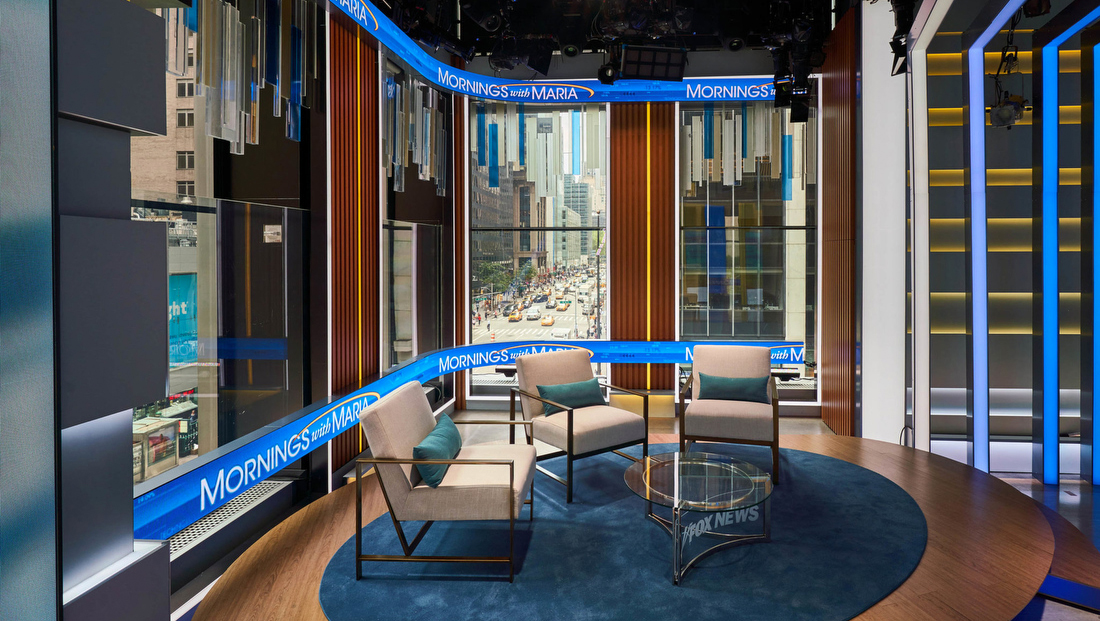 The internally lit header bands switch direction next to this area and become wall elements that terminate in the studio floor.
This portion of the studio also features blocky elements and cut glass hanging from the window frames.
For evening programming, such as "Trish Regan Primetime," the main desk position pivots to a video wall background while a simpler plexiglass desk with LED ribbon is used.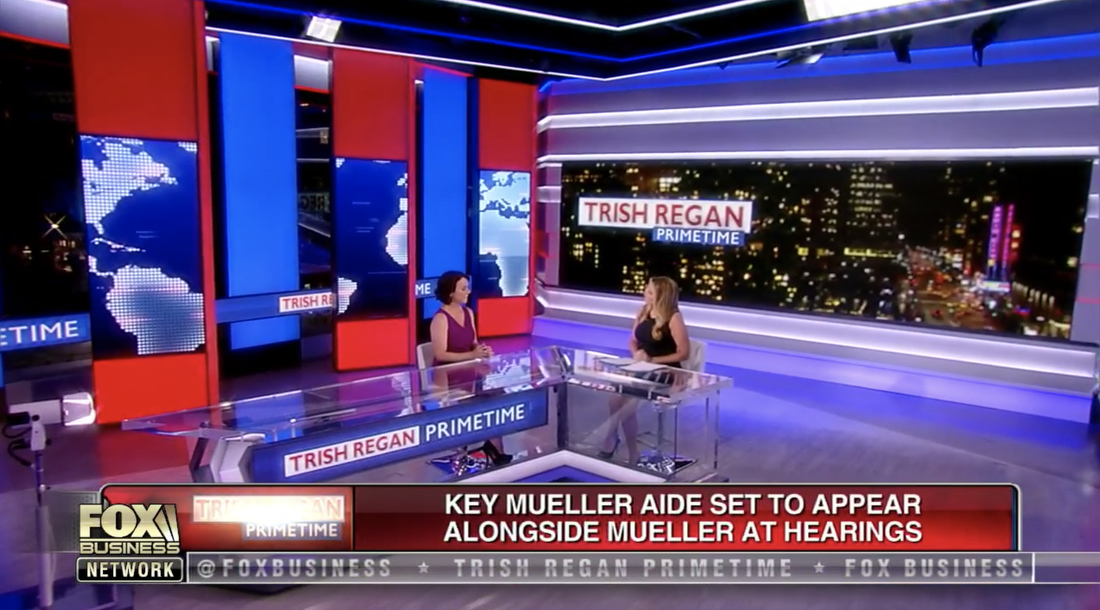 Studio G was also the previous home of Fox Business — with a bold set that included a faux vault.
Project Credits
Set design by Jack Morton Worldwide
Fabrication by Mystic Scenic Studios
Lighting by The Lighting Design Group
LED Video technology from Leyard